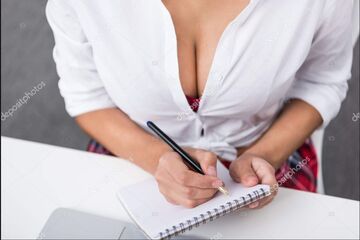 Mówiłam, że to niepotrzebne, ale i tak dostałam dzień wolnego. Sylwia powiedziała, że muszę uspokoić nerwy, odpocząć i dojść do siebie. Ona razem z mężem mieli w tym czasie doprowadzić do ładu to, co się stało w ich domu. Chcieli na spokojnie rozmówić się z Piotrkiem i ustalić nowe zasady korepetycji. Miałam wrażenie, że choć to mnie usiłowano zgwałcić, to Sylwia przeżywa to bardziej niż ja. Nie miałam prawa uważać ją za przewrażliwioną czy spanikowaną, ponieważ sama nie miałam dzieci.
Marysia i mama wypytywały mnie o szczegóły mojego pobytu w willi Baranowskich. To był dla mnie nie lada wysiłek, zwłaszcza umysłowy. Cały czas musiałam pilnować się, żeby nie chlapnąć czegoś o oglądaniu meczu w staniku, aresztowaniu przez ochronę, seksie z Pawłem i próby gwałtu ze strony Piotrka. Miałam nadzieję, że w końcu odpuszczą. Wybawieniem miały okazać się zakupy, na jakie mama i Marysia planowały wybrać się od dawna. Zabrały także mnie.
Po zakupieniu podręczników i przyborów szkolnych dla mojej siostry pojechałyśmy do dużego centrum handlowego. Nie miałam ochoty na bieganie po sklepach z ciuchami, więc one poszły kupić jakieś spodnie, a ja miałam w tym czasie zrobić zakupy. Cieszyłam się, że w końcu odpocznę od ich towarzystwa.
- Hej Edyta — usłyszałam za plecami, kiedy pakowałam pomarańcze.
Odwróciłam się i ku mojemu zaskoczeniu zobaczyłam mężczyznę w moim wieku, który podobnie jak ja zabiera się do zakupu cytrusów. Nie wiedziałam, czy to on się do mnie odezwał, ale nikt inny nie wchodził w grę.
- No hej — odpowiedziałam trochę na ślepo. Na jego twarzy pojawił się uśmiech. Spojrzał na mnie. Dopiero wtedy go rozpoznałam.
- Nie sądziłem, że taka dziewczyna jak ty, pracująca u Baranowskich kupuje pomarańcze w tym samym sklepie co ochroniarze.
- A dlaczego nie? To, że tam pracuje, i czasem jestem na tyle nierozgarnięta, że włączam alarm bez przyczyny, nie znaczy, że jestem inna niż dziewczyny w moim wieku.
Chłopak spojrzał na mnie ze szczerym uśmiechem. Podobał mi się. Kiedy raptem kilka dni temu miałam okazję go poznać miał na sobie mundur, który nijak do niego nie pasował. Teraz w niebieskiej koszuli, adidasach i jeansach wydawał się dużo bardziej przystojny.
- Przepraszam, że cię nie poznałam, ale wyglądasz inaczej niż ostatnio.
Zaczął się śmiać.
- A pamiętasz, chociaż jak mam na imię?
Zastrzelił mnie. Za nic w świecie nie mogłam sobie przypomnieć.
- Robert?
- Rafał — poprawił mnie, a ja poczułam się głupio.
- Przepraszam. Nie mam pamięci do imion, ale ciesze się, że ty moje zapamiętałeś bezbłędnie.
- No wiesz, ciężko nie zapamiętać tak ładnego imienia, zwłaszcza gdy należy do tak ładnej dziewczyny. Poza tym myślałem o tobie ostatnio sporo.
- Naprawdę?
- Tak. Miałem wyrzuty sumienia, że pozwoliłem na ten cyrk.
- Nie masz za co się obwiniać. Zachowałeś się w porządku. Gdyby nie ten układ wylądowałabym na policji, a tego nie chciałam. Jestem ci wdzięczna, że jako jedyny okazałeś wtedy klasę i, że broniłeś mnie przed Piotrkiem.
Na samą myśl o tym gówniarzu podniosło mi się ciśnienie. Nie chciałam psuć sobie nastroju i skupiłam się na Rafale.
- Kajdanki się przydały?
- Nawet nie wiesz jak bardzo — powiedziałam całkiem szczerze. Gdyby tylko mój rozmówca wiedział, że dzięki nim spełniły się marzenia i fantazje seksualne Pawła...
- Ciesze się.
- Powinnam ci je oddać. Pewnie w pracy miałeś nieprzyjemności.
- Daj spokój. Dostałem już nowe.
Nastała chwilowa cisza, podczas której wymienialiśmy się spojrzeniami. Widziałam, że zerka na moją bluzkę, która pokazywała niektóre moje walory.
- Wiem, że poznaliśmy się w kiepskich okolicznościach, ale może zatrzemy to jakąś wspólną kawą?
- Wiesz co, teraz nie mogę. Nie jestem tu sama, a jak powiem siostrze i mamie, że idę na kawę z nowym kolegą, to nie będę miała życia przez kolejne tygodnie.
- Chyba rozumiem — powiedział i po raz kolejny obdarzył mnie swoim ciepłym uśmiechem.
- Możemy się umówić na spacer, jeśli miałbyś ochotę.
Sama nie wierzyłam, że to powiedziałam. Zaproponowałam przystojniakowi randkę. Co prawda on pierwszy zaproponował spotkanie, ale kawa ma bardziej oficjalny charakter, a spacer, to raczej jednoznaczna propozycja.
- Z tobą nawet na koniec świata — powiedział.
To był banalny tekst, ale sposób, w jaki to powiedział, czynił go niezwykle poważnym. Wyjął telefon i poprosił o mój numer. Podałam mu go od razu, choć kusiło mnie, żeby chwilę jeszcze poflirtować i przekomarzać się w tej sprawie. Umówiliśmy się od razu tego samego dnia wieczorem.
- No to do zobaczenia — powiedziałam na odchodne.
- Widzimy się — rzucił z kolejnym uśmiechem. - Mam zabrać ze sobą kajdanki?
- Nie zaszkodzi. Bywam agresywna — powiedziałam i tym razem ja przyozdobiłam swoją twarz niezwykłym, jak mi się wydawało uśmiechem. Podobał mu się. Widziałam to w jego oczach.
Nie byłam w stanie skupić się na tym, co mówiła do mnie mama i Marysia. Ekscytowały się zakupami, ale ja miałam co innego na głowie. Chciałam dobrze wypaść na spotkaniu z Rafałem. Nie chodziło mi o to, że zakochałam się w nim od pierwszego wejrzenia, ale czułam, że był wartościowym i zasługującym na uwagę facetem. Niewielu potrafiłoby wyjść z salonu, wiedząc, że może podziwiać, jak młoda dziewczyna będzie się rozbierać. Nasza znajomość zaczęła się od rzucenia mnie na ziemię i zakucia w kajdanki, ale to tylko dodawało pikanterii. Chciałam, aby to spotkanie miało jakiś seksualny wydźwięk. Może powinnam mu wynagrodzić to, że stracił ostatnio takie widowisko? Tak, to był genialny pomysł. Właśnie dzięki temu pytaniu, które zrodziło się w mojej głowie, nie miałam wątpliwości, co na siebie założę.
Umówiliśmy się o dwudziestej. Nie chciałam się chwalić przed mamą spotkaniem, dlatego ściemniłam, że idę do starej koleżanki. Na wszelki wypadek poprosiłam ją, żeby w razie czego potwierdziła moją wersję. Kiedy byłyśmy jeszcze w liceum, tysiąc razy chroniłam jej w ten sposób tyłek przed jej mamą. Oczywiście musiałam obiecać, że po fakcie opowiem jej całą historię.
Nie miał dla mnie kwiatka, co mnie bardzo ucieszyło. Gdyby go przytargał, świadczyłoby to, że zaczął się zakochiwać, a facet, który zakochuje się po dwóch krótkich spotkaniach z dziewczyną, jest desperatem. Po drugie musiałabym go wyrzucić przed powrotem do domu, a to byłoby przykre.
- Świetnie wyglądasz — powiedział na powitanie, skupiając wzrok na mojej czerwonej bluzce i spódnicy w takim samym kolorze.
- Odezwał się — rzuciłam krótko, ale doskonale zrozumiał, co mam na myśli i skinieniem głowy docenił komplement.
Poszliśmy nad rzekę. Po chwili milczenia zaczęliśmy standardową wymianę informacji o sobie. Powiedziałam mu, że wróciłam po studiach do domu, że podjęłam prace u Baranowskich, bo na inną się nie zanosi.
Okazało się, że wie o mnie więcej, niż sądziłam. Był zaledwie rok starszy i chodził do tego samego liceum co ja.
- Od zawsze mi się podobałaś, ale nigdy nie miałem śmiałości, żeby podejść. Poza tym i tak pewnie zlałabyś mnie, zawsze kręciło się wkoło ciebie sporo chłopaków.
Zaśmiałam się, kiedy sobie o tym przypomniałam. Miał racje. Większością z nich się bawiłam, aż w końcu zraniłam uczucia jednego i po rozmowie ze szkolną psycholog zaprzestałam takich akcji. Być może tamto doświadczenie i to, że nie mogłam się od nich opędzić, pomogły mi nieco w kontaktach z Pawłem. Nie zamierzałam się nad tym rozwodzić w tamtej konkretnej chwili.
- Podoba ci się praca u Baranowskich?
- Nie mam innej, a Paweł jest całkiem w porządku. Jego matka także.
- Ciekawe, że nie wspominasz o tym drugim.
- Na temat Piotrka nie mam ochoty gadać. Zresztą wiele wskazuje na to, że będę uczyć już tylko Pawła — powiedziałam i uśmiechnęłam się tak, żeby wiedział, że wcale mnie to nie martwi, a wręcz przeciwnie.
- A ty uczyłeś się kiedyś niemieckiego?
- Tak, ale to było dawno i nieprawda. Niewiele pamiętam.
- Może sprawdzimy?
- Nie Edyta nie ma szans. Musiałbym pobudzić moje zwoje mózgowe, a to nie lada wysiłek.
- A jakbyś dostał nagrodę? - zagaiłam go z lekkim uśmieszkiem.
Kąciki jego ust podniosły się nieznacznie, co mogłoby sugerować, że przemknęło mu przez myśl, co to może być za nagroda, a to był już dobry znak. Wpadłam na to w domu. Skoro z Piotrkiem robiłam takie rzeczy, to dlaczego nie z chłopakiem, który mi się podobał? Byliśmy młodzi, dorośli, a on mi się podobał. Była to co prawda pierwsza randka, ale czułam jakąś niezrozumiałą chęć na bliższą relację o charakterze cielesnym z tym chłopakiem.
- Co konkretnie masz na myśli?
Stanęłam naprzeciwko niego i zerknęłam na swoją bluzkę. Przejechałam palcem po wszystkich guzikach.
- Siedem — skwitowałam i spojrzałam na niego. - Zadam ci tyle samo pytań, a za każdą prawidłową odpowiedź rozepnę jeden z nich.
- Wkręcasz mnie?
- Nie. Chce pobudzić twoje zwoje mózgowe, poza tym należy ci się jakaś rekompensata za to, że nie widziałeś tego, co pozostali wtedy w salonie u Baranowskich.
Oboje uśmiechnęliśmy się i zeszliśmy na bok. Była tam niewielka ławeczka. Usiedliśmy naprzeciwko siebie.
- Dzień dobry?
- To banalne. Guten Morgen — odpowiedział szybko.
Kiwnęłam głową z uznaniem, jakby odkrył nowy język, po czym delikatnie rozpięłam pierwszy guziczek od dołu.
- No co? Myślałeś, że zacznę od góry? Nie ma tak łatwo kolego — rzuciłam z uwodzicielskim spojrzeniem.
- Kein Problem — rzucił w odpowiedzi, a ja w nagrodę za dobre sformułowanie odpięłam kolejny guziczek.
- Do widzenia?
- Auf Wiedersehen
- Czerwona spódnica?
- Roter Rock
Pozostały tylko trzy guziczki. Od tego momentu wpatrywał się już tylko w jedno miejsce. We mnie zaczynało się budzić ogromne podniecenie. Specjalnie, może podświadomie wybierałam tylko proste sformułowania. Chciałam chyba jak najszybciej pokazać mu swoje piersi. Nie wiedziałam, z jakiego powodu ani co będzie dalej.
Zadałam kolejne trzy pytania i osłoniłam przed nim piękno swojego ciała.
- No nieźle — skomentował, wyraźnie nie wiedząc, co teraz powinien zrobić.
Przybliżałam się do niego i pocałowałam lekko. Odwzajemnił, a jego dłonie od razu znalazły się na moim brzuchu. Dotykał mnie powoli, ale subtelnie, cały czas całując. W końcu odepchnął mnie lekko i zaczął zapinać moją bluzkę. W jego oczach pojawił się strach. Obejrzałam się za siebie i zauważyłam jakieś starsze małżeństwo z pieskiem, które podążało w naszą stronę.
- Kurcze, też sobie wybrali moment na spacer — skomentowałam.
Doprowadziłam się do porządku i ruszyliśmy z powrotem. Widocznie tak miało być, choć i tak w tamtym miejscu nie było możliwości, żeby pozwolić sobie na coś więcej.
- Dzięki za ciekawą lekcję.
- Nie ma za co. To był poziom podstawowy. Mam nadzieje, że kiedyś dojdziemy do zaawansowanego.
Spojrzeliśmy na siebie wymownie.
- Myślisz, że będzie kolejny raz?
- A ty nie?
- Ja bym chciał, ale nie wiem...
- Rafałku, nie marudź.
Zaśmialiśmy się i poszliśmy w stronę mojego domu. Cieszyłam się, że mnie choć trochę odprowadzi. Byłam wyzywająco ubrana, a o tej porze roku wszystko mogło się zdarzyć. W tym tygodniu już raz próbowano mnie zgwałcić i wystarczy.
Przez całą noc myślałam tylko o nim. Zasnęłam nad ranem świadoma tego, że kolejnego dnia mam rozmowę z Baranowskim. Nie mogłam przedkładać swojego życia prywatnego nad prace. Miałam z nimi umowę i chciałam jej dotrzymać. Mimo wszystko zapowiadało się sporo seksu w te wakacje.