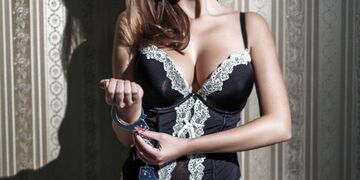 Czułam, jak wzrasta we mnie podniecenie. Po wyjściu Piotrka i zjedzeniu obiadu usiedliśmy z Pawłem na chwile, żeby odpocząć i napić się soku. Chciałam rozluźnić trochę chłopaka, bo widziałam, że im bliżej naszej zabawy, tym jest bardziej spięty. We mnie także coś wzrastało, ale było to podniecenie. Myśl o tym, że spełnię fantazję seksualną tego chłopaka, że będę przez niego skuwana, dotykana i przeszukiwana nie pozwalała mi spokojnie myśleć. Liczyłam na to, że jeśli dobrze pójdzie, to wylądujemy w łóżku. Warunki były do tego idealne. Byliśmy sami i zapowiadała się cudowna gra wstępna. Miałam dzień niepłodny i spokojnie mogłam mu pozwolić na stanie się prawdziwym mężczyznom. Miałam tylko nadzieje, że nie stchórzy.

- Jak mam być ubrana podczas tej naszej zabawy? - zapytałam w końcu, uśmiechając się z entuzjazmem i ochotą na to, co planowaliśmy.

- Sam nie wiem, załóż, co chcesz — odpowiedział.

- Paweł założę to, co tobie będzie się najbardziej podobało. Chce, żeby to jak najbardziej odpowiadało twoim fantazjom. Najlepiej opowiedz mi troszkę o nich, to będę wiedziała jak się zachowywać i co założyć.

Chłopak zrobił się lekko czerwony i widziałam, że się speszył. Wypił całą szklankę soku, po czym spojrzał na mnie.

- Wiadomo, że nie fantazjuje o zakuwaniu i aresztowaniu kobiet w golfach czy płaszczach. Zazwyczaj wyobrażam sobie je w sukienkach albo bluzkach i spódnicach. Podoba mi się, jak mają odkryte ramiona. Najczęściej marze o tym, że zakuwam i aresztuje kobiety, które chudzą w samych stanikach, że to niby zabronione.

Od samego wyobrażania sobie tego, o czym ten chłopak mówił, robiłam się wilgotna.

- A masz jakieś ulubione kolory biustonoszy, czy ubrań, które szczególnie na ciebie działają?

- Niebieski i czarny — powiedział pewnie i bez zastanowienia, zupełnie jakby spodziewał się, że o to dokładnie zapytam.

- Jak wyobrażam sobie, że zamykam kobietę do aresztu, to najpierw ją przeszukuje i ona rozbiera się do naga.. - powiedział niepewnie i znów zrobił się czerwony.

- To żaden problem, mam już pewne doświadczenie po wizycie kolesi z ochrony — odparłam, ale szybko zrozumiałam, dlaczego o tym wspomniał.

Uśmiechnęłam się do niego, najszerzej jak potrafiłam.

- Dla ciebie mogę zdjąć wszystko, nawet majtki — powiedziałam i poczułam, jak dreszcz podniecenia przeszywa moje podbrzusze. Nie mogłam się już doczekać, jak usłyszę dźwięk zatrzaskiwanych na moich rekach kajdanek i zimny metal.

- A co z aresztem? Kajdanki mamy, ale przydałoby się jakieś pomieszczenie, gdzie mnie wsadzisz, choć na pół godzinki. Chciałam poczuć, jak to jest trafić na dołek.

- Zaskakujesz mnie Edyta — powiedział i wytrzeszczył oczy.

- Staram się, jak mogę.

- U nas w piwnicy jest pomieszczenie, w pralni gdzie jest taki mały kantorek. Zamyka się z zewnątrz. To dobre miejsce, przynajmniej tak myślę — powiedział, a ja z uznaniem dla jego pomysłowości skinęłam znacząco głową.

- To ja proponuje, że będę chodziła na górę i zakładała różne stroje. Potem będę schodziła tutaj, a ty będziesz robił, co będziesz chciał. Potem zmiana stroju i powtórka. Dla ciebie to będzie fajne, bo doświadczysz doznań z różnie ubraną dziewczyną, a mnie będzie ekscytowało, idąc po schodach, co ze mną zrobisz.

Chłopak przełknął znacząco ślinę i spojrzał na mnie ciepło. Czułam, że doszliśmy do porozumienia, i właśnie o takie coś mu chodziło.

Poszłam na górę i zabrałam kajdanki. Oba kluczyki były złączone, co było największą głupota świata i nigdy nie rozumiałam, dlaczego ludzie tak robią. W momencie zgubienia traci się oba! Rozłączyłam je i jeden schowałam w kuchni. Drugi dałam Pawłowi.

- Idę na górę — powiedziałam i się uśmiechnęłam.

Widziałam po jego minie, że już nie może się doczekać, aż zejdę.

Wyrzuciłam wszystko z walizki na moje łóżko. Na szczęście miałam niebieski biustonosz i niebieską sukienkę na ramiączkach. Od tego planowałam zacząć. Przeczesałam włosy i ułożyłam je po lewej stronie. Miałam nadzieje, że mu się spodobam.

Idąc po schodach, zastanawiałam się, od czego zacznie. Mógł mnie rzucić na ziemię jak ochroniarze, kazać uklęknąć, lub postawić pod ścianą, wymacać i dopiero wtedy skuć! Samo myślenie o tym było cudowne.

- Pani Edyta? - zapytał.

- Tak, to ja — odpowiedziałam z uśmiechem na ustach.

- Pójdzie pani ze mną. Mam nakaz pani aresztowania. Proszę nie stawiać oporu i wykonywać polecenia.

Czułam się, jakby był prawdziwym policjantem. Przeszył mnie lekki strach.

Paweł sięgnął do tylnej kieszeni jeansów i wyjął kajdanki.

- Proszę raczki przed siebie, do przodu.

Posłusznie wykonałam polecenie. Najwyraźniej filmiki oglądane w internecie zrobiły swoje. Chwycił kajdanki sztywno do jednej dłoni, po czym skuł mi najpierw lewą, a potem prawą dłoń. To było najbardziej eleganckie ze wszystkich wariantów. Tak zazwyczaj traktowano aferzystów, biznesmenów i ludzi, którzy nie byli niebezpieczni. Przede wszystkim tak traktowano kobiety. Miałam nadzieje, że potem mnie trochę sponiewiera, mimo wszystko. Chwycił mnie pod ramię i posadził na krześle.

Usiadł naprzeciwko mnie. Czekałam na dalszy rozwój wydarzeń. Nie miałam pojęcia, co będzie dalej.

Patrzył tak na mnie przez chwile.

- Jest pani bardzo ładna, ale z tego, co wiem, jest pani też niebezpieczna. Powinienem inaczej panią potraktować. Proszę wstać — polecił, po czym sięgnął do kieszeni po kluczyk. Rozkuł mnie.- Proszę się odwrócić tyłem położyć ręce z tyłu głowy.

Poprawiłam sobie włosy i zrobiłam, co mi kazał. Stanął za mną. Położył dłonie na mojej szyi i zaczął wodzić nimi po moich plecach i korpusie. Wyraźnie zwolnił, kiedy przejeżdżał pod pachami i choć nie miałam okrytych ramion, to je także sprawdził. To chyba był taki jego fetysz.

Słyszałam, z jakim podnieceniem oddycha. To było satysfakcjonujące, ale budziło minimalną obawę. Ufałam mu, aczkolwiek zawsze istniała możliwość, że straci nad sobą panowanie. Ryzykowałam, ale stawka była wysoka. Mogłam spełnić swoją misję.

Jego dłonie przejechały na moje pośladki. Paweł to nie był facet, który lubi klepać kobiety po tyłku. Szybko zjechał na nogi. Byłam przekonana, że podniesie sukienkę i zajrzy pod nią, ale jednak się pomyliłam. Na samą myśl o tym poczułam lekki dreszczyk.

Usłyszałam brzęk metalu, a potem poczułam jego dłoń, jak sprowadza moją rękę na plecy. Dźwięk i zimny metal na prawej dłoni, potem to samo na lewej. Skuł mnie z tyłu.

- Proszę się odwrócić.

Zrobiłam to. Spojrzeliśmy na siebie. Z mojej twarzy nie schodził uśmiech, za to na jego wyraźnie zarysowało się podniecenie. Patrzył na niewiele starszą dziewczynę, cholernie seksowną, w kusej sukience, która eksponowała wszystkie krągłości. Na dodatek ta dziewczyna była bezbronna i skuta kajdankami. Mógł ze mną zrobić, co chciał.

- Muszę jeszcze z przodu panią przeszukać.

Mogłam się tego domyślić. Położył dłoń na moim policzku. Chciał mnie tym jakby uspokoić. To było niesamowite. Po chwili skupił się na tym, co do niego należało. Wiadomą rzeczą było, że najbardziej skupi się na biuście. Zaczął jednak od brzucha i powoli jechał do góry. Czułam, jak zaczynam szybciej oddychać.

Położył donie na moich piersiach. Odchylił sukienkę i zajrzał.

- Ma pani coś w biustonoszu?

- Nie proszę pana — odpowiedziałam.

- Na pewno?

- Tak, może pan sprawdzić — powiedziałam z pewnością siebie.

Dobrze. Pójdziemy teraz do aresztu i tam dokonamy dokładniejszego przeszukania.

Chwile potem szłam prowadzona przez niego do pralni. Pomieszczenie było małe, ale jasne. Na środku był stół.

- Proszę się odwrócić — powiedział, po czym uwolnił moje ręce. - Zdejmij buty.

Miałam na sobie białe botki, które nie wzbudziły jego większego zainteresowania.

- Sukienka!

Opuściłam ramiączka, patrząc na niego. Widziałam, jak lekko otworzył oczy w reakcji na to, co działo się przed nim. Moja niebieska kiecka zsunęła się ze mnie i stałam przed nim w samej bieliźnie. Rzuciłam ją nonszalancko na stół.

- Stanik!

Rozpięłam biustonosz i tym razem dla odmiany szybko ściągnęłam z siebie. W taki sam sposób rzuciłam na stół. Nie czekałam na polecenie zdjęcia majtek. Bałam się, że zabraknie mu odwagi i sama szybkim ruchem ściągnęłam je. Mimo wszystko, kiedy to robiłam, czułam wstyd, ale minął on tak szybko, jak szybko się pojawił.

Majtki znalazły się tam, gdzie reszta, a ja stałam przed nim naga. Wzrok na chwile utkwi w piersiach, a potem od razu przeniósł się na moją muszelkę. Stałam przed nim naga jak święta turecka i pozwalałam, żeby się na mnie gapił. Moje ręce jakby podświadomie i odnajdując resztki przyzwoitości, chciały zakryć moje intymne części ciała. Ułożyłam je na karku, tak, jak wtedy kiedy byłam skuwana. Paweł prawdopodobnie pierwszy raz patrzył na kobiecą cipkę. To był dla niego ważny moment i chciałam, żeby po latach dobrze go wspominał. Nie wstydziłam się tego, że była cała mokra. Niech chłopak wie jak on i jego zabawa na mnie działają. W zamyśle miało to podnieść jego samoocenę.

- Dobrze zamknę panią teraz nagą w celi i na spokojnie sobie przeszukam pani ubranie.

Nie spodziewałam się czegoś takiego, bo nigdy nie słyszałam o zamykaniu nagich osadzonych, ale to przecież nie musiało wyglądać tak jak w rzeczywistości. To była jego fantazja!

Dźwięk klucza w zamku i świadomość tego, co się stało, była bardziej podniecająca, niż sądziłam. Nie wiedziałam ile mam czasu. Mówiłam, że chciałabym zostać zatrzymana i zamknięta na pół godzinki, ale równie dobrze mógł już po minucie mnie wypuścić.

Przeszło mi przez myśl, żeby trochę rozładować napięcie i zaspokoić się ręką, ale bałam się, że nagle otworzy drzwi i mnie nakryje. To mogłoby być miłe i mieć ciekawe zakończenie, ale uznałam, że byłoby to przegięcie.

Nie wiedziałam, co robi. Miałam tylko nadzieje, że nie wącha moich majtek i nie masturbuje się, patrząc na mój stanik. Zastanawiałam się, co czuje taki chłopak, mając świadomość, że ma pod kluczem nagą dziewczynę. Moje rozważania przerwał dźwięk klucza w zamku.

- Proszę wyjść z celi.

Znów stałam przed nim naga. Podał mi majtki i stanik.

- Mógłby mi pan pomóc? - zapytałam uwodzicielsko, prosząc o zapięcie biustonosza. Tym razem jego dłonie były spokojne, nie trzęsły się. To pozwoliło mi sądzić, że Paweł panuje nad sobą. Nie wiedziałam, czy mam się martwić, czy cieszyć. Chyba mimo wszystko wolałam, jak był speszony i zastanawiał się nad każdym ruchem. Szybko włożyłam też sukienkę, a potem zgodnie z jego poleceniem stanęłam twarzą do ściany i oparłam na niej dłonie. Dla formalności, a raczej swojej przyjemności przeszukał mnie jeszcze, po czym szybko i pewnymi ruchami skuł mnie na plecach. Położył dłoń na ramieniu, po czym przesunął pod pachę i wyprowadził z pralni. Podniecała mnie ta zależność od niego i niepewność tego, co będzie dalej. Znaleźliśmy się w salonie, gdzie stanął za mną i rozkuł mi ręce.

- Jest pani wolna — powiedział i poszedł do lodówki po coś do picia.

Pobiegłam na górę. Zamknęłam drzwi do sypialni i poczułam jak wali mi serce. Nie dlatego, że biegłam po schodach, ani dlatego, że byłam przerażona. To był efekt podniecenia i tego, że gdzieś w głębi duszy ja także marzyłam o takiej zabawie. Nie tylko jego fantazja zaczęła się spełniać.

Zrzuciłam z siebie niebieskie ubrania i wytarłam swoją cipkę. Była naprawdę mokra. Założyłam czerwoną kraciastą spódnicę, biały stanik i białą bluzkę. Rozpięłam górny guzik. Poprawiłam włosy i zeszłam do salonu.

Paweł siedział za stołem. Kiedy mnie zobaczył, na jego twarzy pojawił się uśmiech.

- Pani Edyto, czy ten strój nie jest zbyt wyzywający?

- Tak pan myśli? Nie sądzę..

- Ale ja sądzę. Nie może pani tak chodzić przy młodym chłopaku. Proszę się odwrócić, uklęknąć i ustawić szeroko ręce.

Nie protestowałam, choć miałam ochotę na dłuższą dyskusję. Klękanie w spódnicy nie było proste, ale poradziłam sobie. Szybki trzask na lewej dłoni, potem ściągnięcie obu na plecy i skucie razem. Dosłownie kilka sekund zajęło mu obezwładnienie mnie. Delikatnie położył mnie na ziemi. Podłoga była zimna, ale jego dłonie, które zaczęły mnie dotykać i obmacywać moje nogi i tyłek były ciepłe. Pozwolił sobie na wiele, dotykał mnie nawet po świeżych majtkach. Włożył dłonie pod bluzkę i dojechał aż do zapięcia stanika na plecach. Po jego linii włożył je do przodu na moje piersi i delikatnie je ugniatał. Choć tego nie chciałam, nie mogłam się powstrzymać i cicho jęknęłam. Nie sądziłam, że to będzie, aż takie przyjemne.

Pomógł mi wstać i przyprowadził mnie do stołu. Położył mnie na nim, a sam usiadł naprzeciwko. Pijąc sok, patrzył na moje cycki. Nie było zbyt wygodnie, ale podniecenie niwelowało dyskomfort. Byłam zadowolona, że młody chłopak napawa się moim widokiem. Uśmiechaliśmy się do siebie, co tylko budowało napięcie. Wypił sok do końca i zrobił coś, czego się nie spodziewałam. Położył dłoń na swoim kroczu. Nie wierzyłam, że będzie się masturbował, ale on tylko przejechał kilka razy po spodniach z zamkniętymi oczami. Byłam trochę zazdrosna, bo też miałam ochotę dać sobie upust, ale moje skute ręce mi to uniemożliwiały. Nie pisnęłabym słowem, gdyby podszedł do mnie od tyłu, wsadził rękę pod spódnice i wypieścił mnie przynajmniej palcem. Na myśl o tym poczułam, jak kolejna fala wilgoci brudzi moje majtki.

Paweł wstał, podszedł do mnie i mnie rozkuł. Nie musiał mówić, że jestem wolna. Od razu pobiegłam na górę i zostawiwszy kraciastą spódnicę, zdjęłam z siebie bluzkę i biały biustonosz. Założyłam czarny. Związałam włosy w kok i w samym staniku zeszłam na dół.

Stanęłam na środku salonu, podpierając dłoniami biodra i patrząc na niego wyzywająco. Nic nie mówił, tylko podszedł do mnie szybkim i pewnym krokiem. Wyładowałam na ziemi. Zostałam natychmiast skuta i przeszukana, głównie po piersiach. To przypominało trochę to, co zrobili ze mną ochroniarze, ale tym razem było dużo bardziej podniecająco.

Po kilku minutach postawił mnie do pionu i włożył ręce w moją spódnicę. Był coraz śmielszy i ogromnie byłam z tego zadowolona. Nie odzywał się. Zaszedł mnie od tyłu i rozkuł. Potem kazał mi stanąć pod ścianą i skuł mnie w takiej pozycji. Potem to samo na klęcząco. Na koniec skuł mnie z przodu i podziwiał widok moich piersi w czarnym staniku i dłoni w kajdankach. Stałam tak pod ścianą i oddałabym wszystko, żeby odgadnąć jego myśli.

- Jesteś wolna — powiedział, po kilkunastu minutach.

Po raz kolejny pobiegłam na górę. Nie mogłam się doczekać momentu, kiedy znów usłyszę dźwięk metalu i poczuje go na swoich przegubach. Włożyłam zwiewną zieloną sukienkę na ramiączkach. Poprawiłam fryzurę, spuszczając moje włosy na ramiona, co miało go jeszcze bardziej podniecić.

Spodobało mu się. Dostałam polecenie, żeby stanąć pod ścianą i położyć na niej dłonie. Przeszukanie, skucie, uwolnienie. Powtórka z rozrywki. Przeszukanie skucie i uwolnienie. Trwało to chyba z godzinę i obojgu nam się to podobało. W końcu posadził mnie skutą na krześle i gapił się na mój biust. Bawił się ramiączkiem od stanika i sukienki gładząc po ramieniu. Wiedziałam, że to go podnieca. Mogłam nawet przypuszczać, że widok ramion, w które wdzierają się ramiączka, jest dla niego przyjemniejszy od miseczek okalających piersi.

- Wstań, idziesz na dołek — powiedział, po czym prowadząc mnie pod ramię, ponownie ruszyliśmy w stronę pralni. Po chwili byliśmy na miejscu.

- Przed osadzeniem zostaniesz dokładnie przeszukana. Rozbieraj się — rzucił.

Usiadł na krześle, a ja nie śpiesząc się, zaczęłam zdejmować z siebie sukienkę i bieliznę. Po chwili znów stanęłam przed nim, tak jak przyszłam na świat.

Spojrzał na moje stojące na baczność piersi. Były nabrzmiałe. Ruchem ręki zrzucił z metalowego stołu moje ubrania. Wyjął kajdanki i skuł mnie z tyłu. Zdziwiło mnie to. Nie sądziłam, że zamknie mnie skutą, ale najwyraźniej ku lekkiemu przerażeniu zmienił plany.

Położył mnie na tym zimnym stole całkowicie nagą i w kajdankach. Zimno blatu sprawiło, że poczułam dreszcz, jaki mnie przeszywa, a sytuacja spotęgowała tylko podniecenie. Poczułam jego dłoń na udzie. Delikatnie przesuwał się w górę. Wiedziałam, że za chwilę dotrze do mojego krocza. Marzyłam, żeby mnie teraz zerżnął choćby palcem. Nie sądziłam, że się odważy, ale go nie doceniłam. Pierwszy palec, który włożył był wskazujący, drugi serdeczny.

- O tak, - powiedziałam, dając mu wyraz akceptacji i zadowolenia z poczynionych przez niego kroków. Pragnęłam tego i nie chciałam protestować.

Wykonał kilka ruchów, czym rozpalił mnie do czerwoności, a potem nagle ze mnie wyszedł. Uwolnił moje dłonie.

- Teraz trochę posiedzisz i ochłoniesz. Możesz dokończyć sama to, co zacząłem. Wiem, że cię podnieciłem i teraz nie jesteś zaspokojona, ale będziesz miała okazję się odegrać. Jak wyjdziesz, to zamienimy się rolami i jeden raz ty będziesz miała prawo mnie aresztować i przeszukać, a potem, jeśli będziesz chciała to zamknąć. Też chce poczuć się w takiej roli.

Zamknął drzwi na klucz. Siłą woli powstrzymałam się od masturbacji, ale było to bardzo trudne. Tym razem moja odsiadka trwała dłużej niż ostatnio. Naprawdę poczułam się jak osoba aresztowana i to było ciekawe przeżycie.

Usłyszałam, jak otwiera drzwi.

- Jesteś wolna! - powiedział i podał mi do ręki moje ubrania. Zostawił kajdanki na stole i nie czekając na mnie, wyszedł.

Chwile zajęło mi ochłonięcie i wykombinowanie jakiegoś planu. Musiałam z aresztantki przeobrazić się w policjantkę. Rola korepetytorki i opiekunki wychodziła mi średnio, ale czy poradzę sobie z tym?

Ogarnęłam się i wyszłam na górę. Nie mogłam go nigdzie znaleźć. Najwyraźniej postanowił mi trochę skomplikować zadanie.

Wiedziałam, że pewnie jest w swoim pokoju. Chciałam zrobić to efektownie i wparowałam tam jak oddział specjalny. Chłopak akurat się przebierał. Zaskoczył mnie jego widok w samych bokserkach. Nie chciałam wnikać, dlaczego musiał się przebrać, ale byłam także zaskoczona jego umięśnionym ciałem.

- Kładź się na łóżko — powiedziałam tonem nieznoszącym sprzeciwu. Chciałam być jak najbardziej wiarygodna.

- Mogę założyć spodnie?

- Nie! Kładź się i ręce na kark.

Zawahał się i powoli zbliżył się w stronę łóżka. Pomogłam mu, lekko go popychając. Usiadłam na nim okrakiem i skrzyżowałam jego ręce na plecach. Ogromna fala podniecenia przeszła przeze mnie. Nie spodziewałam się, że taka sytuacja aż tak może na mnie zadziałać. Nie spieszyłam się z jego skuciem. Delektowałam się dźwiękiem i widokiem zatrzaskiwanych kajdanek. Miałam świadomość, że siedzę na nim, on jest półnagi i skuty. Mogłam go dotykać, gdzie chciałam. Nie zamierzałam przepuścić takiej okazji.

Pomogłam mu wstać. Był cały czerwony, najwyraźniej podnieciło go to, bardziej niż sadził. Jego penis stał na baczność, omal nie przebijając bokserek.

Podeszłam do niego i patrząc mu w oczy, delikatnie włożyłam dłoń do jego majtek.

Nie pamiętałam, kiedy ostatni raz trzymałam męskiego fallusa w dłoni, ale to nie miało znaczenia. Objęłam go i patrząc z uśmiechem, zaczęłam wykonywać posuwiste ruchy. Chłopak reagował tak, jak powinien. Zaczął sapać i z trudem utrzymywał się na nogach.

Doprowadziłam go do stanu tuż przed wytryskiem i postanowiłam zrobić to samo co on w pralni. Wyjęłam dłoń, zostawiając go skutego na chwilę. Zapewne chciał sam dokończyć, ale nijak nie mógł tego zrobić. Gdyby to był Piotrek, miałabym satysfakcje, ale Paweł nie zasługiwał na takie traktowanie. Problem polegał na tym, że w tamtej chwili myślałam tylko o sobie. Miałam ochotę po wyżywać się na nim. Podniecał mnie jego widok w samych bokserkach. Rzuciłam go na łóżko, mając nadzieje, że nie uszkodzę jego prącia. Znów na nim usiadłam. Wyjęłam z kiszeni kiecki kluczyk i powoli rozkułam jego donie. Nie zamierzałam jeszcze z niego schodzić i pomasowałam go trochę po plecach.

Po kilku chwilach wstałam, a on usiadł na łóżku.

- No i jak było? - zapytałam.

- To było cudowne. Dziękuje ci Edyta, że się zgodziłaś na tę zabawę. Potrzebowałem tego.

- Przyjdź do mnie po kolacji. Dziś śpimy razem — powiedziałam z uśmiechem.

- Będziemy tylko spać, tak jak, wtedy kiedy była burza?

- Nie. Chce się z tobą kochać i zrobić z ciebie mężczyznę — powiedziałam i nie czekając na jego ewentualne obiekcje, wyszłam z jego pokoju.