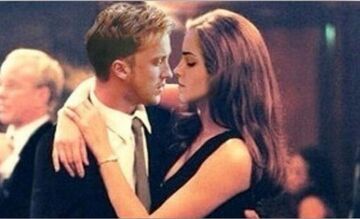 Westchnęła ciężko, chyba po raz tysięczny przecierając zmęczone, dopraszające się, choć odrobiny snu oczy i zaczęła czytać akapit od początku. Niestety za każdym razem rozumiała z tego coraz mniej i to ją wyraźnie frustrowało.
- Powinnaś się chyba wreszcie położyć i nieco przespać — mruknął Draco, który zapewne wyglądał niewiele lepiej od niej. A czuł się na pewno o wiele gorzej. - W tym stanie bardzo wątpię, byś znalazła informacje, o które nam chodzi. Ślęczysz nad tymi książkami całą noc. Jeszcze chwila i w tej pozycji zastanie cię poranek.
Spojrzała na niego zaczerwienionymi od czytania oczami i otwarła usta, chcąc mu się odszczeknąć, ale najwyraźniej jej mózg nie obsługiwał już nawet tej czynności. Zamknęła więc usta i kiwnęła niemrawo głową, odkładając książkę.
- Pójdę już — chrypnęła w końcu, wstając ociężale z puszystego dywanu, na którym dotąd siedziała.
- Teleportacja czy Proszek Fiuu?
- Mój kominek nie jest podłączony. Po prostu się przejdę.
- O tej porze? - prychnął. - Dobra, Granger, masz dwa wyjścia. Odprowadzam cię do domu, z tym że wolałbym nie zostawiać małego samego na tak długi czas, albo nocujesz u nas.
- Zwariowałeś — mruknęła zaskoczona i całkowicie przeświadczona o stanie jego umysłu. - Niby dlaczego miałabym tu w ogóle nocować?
- Bo ci to proponuję, dziewczyno. Bo mimo twej druzgocącej opinii na mój temat, zostałem wychowany na gentlemana...
- Raczej buraka — wpadła mu w słowo.
- Granger... - fuknął poirytowany i zmęczony. - Nie zaczynaj, bo wywalę cię za drzwi i nie będę się tym kompletnie przejmował.
- Teraz to akurat ty zaczynasz, fretko. Nie będę tu nocować, koniec kropka.
- On wcale nie przypomina fretki — dobiegł ich naraz słabiutki głosik od drzwi. Hermiona odwróciła się zaskoczona, a Draco natychmiast podszedł do chłopca i wziął go na ręce w taki sposób, jakby malec był ze szkła i w każdej chwili mógł się rozlecieć. W oczach dziewczyny zalśniły łzy, które starła szybkim ruchem, by nikt ich nie zauważył. Nie miała zamiaru pokazywać temu tlenionemu arystokracie, że taki widok ją wzrusza. Inaczej wykpiwałby ją przez najbliższy miesiąc, a na to kompletnie nie miała ochoty.
- Dlaczego wstałeś z łóżka? - zapytał Draco, natychmiast całą uwagę skupiając na bracie. - Jesteś rozpalony. Powinieneś spać, jest naprawdę późno...
- Nie mogę usnąć, boję się, że znów się zmienię — wyznał maluch, a Hermionę ścisnęło w gardle. Nie mogło tak być, żeby chłopiec bał się snu, to nie było w porządku.
- Tak się nie stanie. Pracujemy nad tym z Hermioną.
- Z twoją dziewczyną?
- Dziewczyną? - Draco pobladł jeszcze bardziej, o ile było to w ogóle możliwe. - Ona nie jest moją dziewczyną, to tylko... - obejrzał się na nią, jakby szukając u niej jakiejś pomocy, ale najwyraźniej właśnie zaczynała się świetnie bawić, pomimo zmęczenia, jakie odczuwała. - Hermiona jest tylko starą znajomą ze szkoły. Pomaga mi, by cię wyleczyć.
- To chyba wam nie wyjdzie... - szepnął Syriusz.
- Nie mów tak! - obruszył się Ślizgon natychmiast. - Oczywiście, że nam się uda. A teraz maszeruj grzecznie do łóżka i postaraj się zasnąć i mieć fajne sny, co? Rano nam o wszystkim opowiesz przy śniadaniu.
- Hermiona zostanie na noc? - maluch mocniej ścisnął misia, gdy starszy brat odstawił go ostrożnie na ziemię i spojrzał na brunetkę swoimi wielkimi, szklistymi od trawiącej go gorączki, oczkami.
- Pewnie, że zostanę. Ja też chcę usłyszeć, co fajnego ci się śniło — powiedziała, kapitulując właśnie całkowicie. - Zrobię ci na śniadanie pyszne naleśniki.
- Taaaak! - krzyknął uradowany Syriusz, choć głosik miał więcej, niż słaby. - Naleśniki są super — powiadomił ich, wychodząc z pokoju.
- Naleśniki to życie — mruknął Draco, wychodząc za maluchem. Hermiona została sama. Usiadła w fotelu i zaczęła myśleć o naturze rzuconej klątwy. Dotarła już do wiadomości, że na długo przed wybudowaniem Hogwartu, gdy prawa magii nie były jeszcze tak restrykcyjne, jak obecnie, wydarzył się pewien incydent, który w wyniku rzuconego zaklęcia, zabił nie tylko obiekt, ale przede wszystkim samego czarodzieja, który je rzucił. Nie znalazła jeszcze co prawda informacji o użytym wtedy zaklęciu, ale fragmenty notatek, jakie pojawiały się w różnych miejscach, pozwoliły jej wywnioskować, że śmierć sprawcy spowodowana była użytą do rzucenia klątwy zbyt dużej energii, której jego ciało nie było w stanie wyprodukować w tak krótkim czasie. Mając te informacje, mogła jedynie przypuszczać, że podobny los spotkał również człowieka, który postanowił ukarać nieuczciwego Lucjusza. Postanowiła sprawdzić w rejestrach Ministerstwa Magii wszystkie informacje na temat niedawnych tajemniczych zgonów, oczywiście, jeśli sam incydent miał miejsce w Anglii.
Nie zauważyła nawet, kiedy zasnęła.
O świcie z głębokiego snu wyrwał ją raptownie najgorszy dźwięk, jaki miała okazję dotąd słyszeć. Coś, co stanowić mogło piskliwy wrzask przerażonego chłopca z basowym rykiem rozdrażnionej bestii. Skuliła się zlękniona, lecz słysząc tupot bosych stóp na korytarzu, sama chwyciła za różdżkę i wyskoczyła z łóżka. Przystanęła zaskoczona, orientując się, że przecież zasnęła w fotelu, ale nie był to czas na podobne rozmyślania. Mały potrzebował wszelkiej pomocy. Draco również. Wypadła na korytarz i pognała ku pokoikowi chłopca, mocniej ściskając różdżkę. Światło w jasnym pokoju już się świeciło, a zaspany, choć w pełni przytomny Ślizgon rzucał już pierwsze zaklęcia ochronne na wszystko, co tylko znajdowało się w pomieszczeniu. Zerknęła na łóżeczko chłopca i zamarła, widząc, że to on wrzeszczy. I nawet sam dźwięk nie był tak przerażający, jak wygląd małego. Jego jasne włoski pociemniały do najgłębszej, matowej czerni, kompletnie nieodbijającej światła zapalonych lamp i unosiły się wokół jego główki, choć nie było najmniejszego przeciągu, oczy były szkarłatnie czerwone, a i tak blada skóra stała się przezroczysta. Hermiona z łatwością dostrzegła wir nieznanego pochodzenia, który harcował po ciele małego, najwyraźniej sprawiając mu niesamowity ból. Już wiedziała, dlaczego każda przemiana przynosi gorączkę. Tym razem jednak ta pojawiła się jeszcze przed atakiem, a to znaczyło, że być może choroba się rozwija. Nie mieli wiele czasu, by ją powstrzymać.
- Jak mogę pomóc? - również krzyknęła, by Draco ją usłyszał.
- Mów do niego — polecił jej stanowczo. - To zazwyczaj go uspokaja. A ja na wszelki wypadek sprawdzę, czy aby nie słychać go na zewnątrz.
Skinęła głową, zbliżając się do chłopca powoli, ale zanim zdążyła choćby nabrać powietrza do płuc, malec przeniósł na nią spojrzenie swych czerwonych oczu i uśmiechnął się w taki sposób, że dzielna Gryfonka w jednej chwili zapragnęła znaleźć się po drugiej stronie kuli ziemskiej, jak najdalej od niego. Przełknęła jednak ślinę wraz z dławiącym ją strachem i uśmiechnęła się do niego lekko.
- Zostałaś — odezwał się po chwili głosem tak głębokim, jakby wydobywał go z samych czeluści piekieł i kompletnie do niego nie pasującym. Był małym, niewinnym chłopcem, a nie potworem, w którego go nieświadomie zmieniono.
- Oczywiście, myślisz, że odpuściłabym śniadanie w twoim towarzystwie? - powiedziała. Głos jej nieco zadrżał.
- Boisz się mnie... - stwierdził, nie odwracając wzroku. Miała wrażenie, że widzi jej myśli i duszę i wcale nie zdziwiłaby się, gdyby tak było. Pokręciła jednak stanowczo głową, choć miała ochotę przytaknąć.
- Martwię się, nie boję. Dlaczego miałabym? Jesteś fajnym chłopcem.
- Naprawdę? - przekrzywił lekko głowę, a kilka lewitujących najwyraźniej za jego sprawą rzeczy opadło z cichym brzękiem na podłogę. Niektóre się stłukły, ale to nic. Magia wszystko naprawi.
- Naprawdę, Syriuszu. Lubię cię.
- Ja ciebie też — przyznał po chwili, a jego głos stopniowo łagodniał. - I misie.
- Widzę, że masz ich tu całkiem sporo. Draco jest naprawdę dobrym bratem.
- Tak, ale chciałbym się bawić z innymi dziećmi — odparł smętnie. Kolejne rzeczy uderzyły o podłogę.
- A ile masz lat?
- Pięć.
- Super — uśmiechnęła się tak szczerze, jak tylko w tej chwili potrafiła, choć dławiło ją w gardle i miała ochotę kompletnie się rozkleić. - Wiesz, skoro tak bardzo lubisz misie, to rano dostaniesz górę misiowych naleśników — obiecała, przyrzekając sobie w duchu, że za te kilka godzin musi się nauczyć takie smażyć. Zadanie nie należało do najłatwiejszych...
- A zostaniesz tutaj? - zapytał z nadzieją w głosie, który już całkiem wrócił do normy. Jednocześnie jego oczka i włoski zaczęły blednąć. Najwyraźniej kolejny atak odchodził w zapomnienie.
- Przecież obiecałam ci naleśniki...
Ale mały pokręcił tylko głową.
- Ale tak na zawsze...

- Jestem zaskoczony — powiedział Draco godzinę później, podając jej kubek czarnej kawy. Napiła się, choć tak naprawdę jej nie potrzebowała, adrenalina wciąż krążyła jej w żyłach. Potrzebowała jednak czegoś, by zająć trzęsące się ręce i nieco się rozgrzać. - Zaufał ci w sposób, jakiego nie okazywał nikomu innemu. Nawet Astorii, choć jest z nami niemal od samego początku.
- Też jestem oszołomiona — chrypnęła, biorąc kolejny łyk.
- Co mu powiedziałaś, gdy zaproponował ci mieszkanie tutaj? - zainteresował się, przysiadając na kuchennej wyspie. Kuchnia nie była jakaś duża, ale bardzo przyjemna. Kojarzyła jej się z jej własnym domem. Szybko odsunęła od siebie tę myśl i skupiła wzrok na zmęczonym blondynie.
- Wytłumaczyłam mu, dlaczego nie mogę tu zamieszkać — odparła, wzruszając ramionami. - Chyba zrozumiał, że nie jesteśmy parą, więc byłoby to cokolwiek dziwne, gdybym się tu sprowadziła i raczej niezręczne — przełożyła na talerz kolejną porcję naleśników. Te już coraz bardziej przypominały misie. Pierwsze były nieforemnymi grudkami o niebiańskim smaku, które Ślizgon wrąbał w pierwszej kolejności, gdy tylko poczuł zapach wanilii.
- Hmmm... Tak, pewnie wkrótce musiałbym zakopać twoje zwłoki w ogródku za domem — przyznał, uśmiechając się wrednie.
- Nie masz ogródka, Malfoy. - Wtrąciła, wylewając na patelnię ciasto. - Poza tym dla dobra twojego brata nie powinieneś tego robić.
- À propos... Masz może jakiś pomysł, jak ograniczyć ból, który odczuwa, gdy nadchodzi atak?
- Próbowałeś mugolskiej medycyny?
- Granger, ja nawet sprowadziłem indiańskiego szamana-czarodzieja, by tylko pomógł Syriuszowi. Aportował się stąd z wrzaskiem, gdy odkrył, co jest małemu...
Skrzywiła się i westchnęła.
- Będę musiała wyjechać — powiedziała. Spojrzał na nią zaskoczony, a potem pokiwał ponuro głową.
- Rozumiem i nie mam pretensji...
- Właśnie, że nie rozumiesz — ofuknęła go. - Nie będzie mnie jakiś czas, muszę zebrać informacje, zacząć węszyć.
- Masz zamiar przemienić się w jakiegoś teriera? - zaśmiał się ochryple.
- Mam zamiar pomóc małemu. I zrobię to, Malfoy, albo nie nazywam się Hermiona Granger!