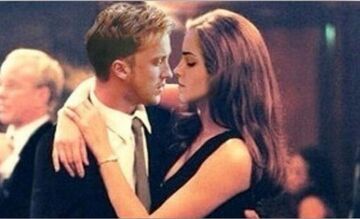 Hermiona cofnęła się zaskoczona jego słowami, sądząc, że Malfoy najpewniej tu zwariował i spytała:
- Co?
- Jesteś głucha, Granger? Mój brat nie żyje. Nie zdążyłaś z tymi księgami — uśmiechnął się ponuro. - Nie mam jednak pretensji. Jako jedyna robiłaś cokolwiek, by nam pomóc. Ale już nie trzeba, możesz sobie iść.
- Nie zamierzam — zaprotestowała, ponownie siadając przy nim. Odwrócił głowę, by nie dostrzegła, jak bardzo złamany jest. Przygryzła wargę, czując wzbierający w niej żal i gniew. Gniew na samą siebie, że tak bardzo się ociągała, ale przede wszystkim na cał Ministerstwo i Munga. To oni doprowadzili do tego, że Malfoy był zmuszony samotnie zmagać się z chorobą brata. Chorobą, która nigdy nie była winą żadnego z nich.
- Wyciągnę cię stąd, Malfoy, choćby to miało być ostatnie, co zrobię jako bohaterka wojenna, słyszysz? - powiedziała ostro, w myślach postanawiając porozmawiać poważnie z Kingsleyem i zrobić wszystko, by Malfoy senior odpowiedział za swoje czyny.
- Zabieraj się stąd — mruknął. - Nie potrzebuję twojej mizernej laski, Granger, rozumiesz? Świat zdecydował za mnie, stwierdził, że to ja jestem winny śmierci Syriusza. I wcale mu się nie dziwię. Więc z łaski swojej wypieprzaj już stąd, bo ja po prostu mam zamiar tu tylko zdechnąć, jasne?
- Draco... Nie możesz tak mówić. Doskonale rozumiem, jak musi być ci teraz ciężko, ale przecież twoja matka nie chciałaby, byś tutaj umarł.
- Moja matka nie żyje tak samo, jak mój brat, Granger — warknął.
- Przecież mówiłeś...
- Kłamałem, jasne? Kłamałem, bo, kurwa, tylko do tego jestem zdolny! Całe moje pieprzone życie to jedno wielkie kłamstwo! Chociaż nie, jedna rzecz nigdy się nie zmieniła, wciąż tak samo nienawidzę szlam, więc zabieraj się stąd, zanim jeszcze bardziej zapaskudzisz moją celę!
Wstała powoli, kręcąc z rezygnacją głową.
- Nawet nie wiesz, jak bardzo mi przykro, Draco, że spotkała cię taka tragedia. Naprawdę. I wierz mi lub nie, ale zrobię wszystko, by cię stąd wyciągnąć. To nie twoja wina i ktoś za to odpowie, obiecuję ci to...

- Kingsley! - warknęła kilka godzin później, prawie wyważając drzwi do jego gabinetu. Zalękniona sekretarka wpadła tam zaraz za nią, najwyraźniej próbując powstrzymać Gryfonkę, ale brązowowłosa była tego dnia, jak sam rozszalały hipogryf i nie miała zamiaru się jakkolwiek poddawać, więc teraz tylko machnęła niecierpliwe na kobietę ręką, w której trzymała różdżkę, a rudowłosa wyleciała miękko za drzwi, które następnie zamknęły się za nią z cichym stukiem.
- Wiesz, że to było całkowicie niepotrzebne i mało kulturalne, Hermiono? - Shacklebolt popatrzył na nią potępiająco. - Masz zapewne świadomość, że za chwilę zwali się nam na głowy połowa Biura Aurorów w celu pojmania cię?
- Mam to głęboko w nosie — syknęła, podchodząc do jego biurka. Była tak rozsierdzona, że powietrze wokół jej włosów zdawało się wręcz skwierczeć od elektryczności, która ją otaczała. - Możesz łaskawie mi powiedzieć, co ty najlepszego wyprawiasz, wtrącając Draco do Numergardu za coś, czego nie popełnił?!
- Hermiono, uspokój się, proszę i usiądźmy spokojnie, inaczej będę musiał użyć siły, a doskonale wiesz, że tego zrobić naprawdę nie chcę...
- Tylko byś spróbował — burknęła, ale posłusznie zajęła fotel. - A teraz słucham twoich wyjaśnień.
Brwi Ministra podjechały do góry, ale nie skomentował jednak jej słów, tylko usiadł naprzeciw w wielkim fotelu.
- Więc co dokładnie chcesz wiedzieć?
- Przed chwilą i powiedziałam, Kingsley...
- Raczej wykrzyczałaś — mruknął pod nosem, nie chcąc mimo wszystko zanadto jej rozzłaszczać. I tak już wyglądała niczym chmura gradowa z gatunku tych naprawdę niebezpiecznych i w tej właśnie chwili był święcie przekonany, że gdyby taką wściekłą Hermionę postawić naprzeciw Voldemorta, to ten drugi uciekałby w podskokach. Jak to mówią mugole?... Ah tak, nawet piekło nie zna gniewu urażonej kobiety... No w każdym razie... - Dobrze — westchnął, zdając sobie doskonale sprawę z odgłosów nerwowej bieganiny na korytarzu. - Pan Malfoy został przez wysoko wykwalifikowanych specjalistów podległych Wizengamotowi uznany za winnego niedopełnienia podstawowych obowiązków wynikających z opieki nad niepełnoletnim czarodziejem, jak również a przede wszystkim za zatajenie tak poważnej przypadłości chłopca, w wyniku której niepełnoletni poniósł śmierć. On i kilkunastu mugoli bawiących się w tym czasie w niemagicznych klubie pana Malfoya. Do tego dochodzi również zarzut narażenia społeczności czarodziejskiej na odkrycie przez osoby niemagiczne.
- Czyś ty zwariował? - zapytała mało uprzejmie, patrząc na niego w taki sposób, że poruszył się niespokojnie na krześle. - Tak naprawdę jedynie oskarżenie o narażenie na ujawnienie może być traktowane serio, reszta to stek bzdur! Kingsley... Ja widziałam, jak ten były Ślizgon opiekował się swoim młodszym braciszkiem i nigdy nie widziałam, by zaniedbał chłopca. Nie widziałeś, jak się nim opiekował, jak o niego dbał. To nie ten sam chłopak, co kiedyś. On naprawdę zrobiłby dla malca wszystko, byle tylko go ochronić. Dlatego przyszedł do mojej księgarni, prosząc o pomoc. Dlatego nie oddał g do Munga, wiedząc, że chłopak stanie się obiektem badań. Jeśli naprawdę wierzysz w to zaniedbanie, to ja jestem królową Hiszpanii — fuknęła, zakładając ramiona na piersi dokładnie w tym samym momencie, w którym drzwi do gabinetu w końcu zostały otwarte i do środka wpadło pół tuzina Aurorów, którzy przystanęli niezdecydowanie, widząc, że w pomieszczeniu nie toczy się najwyraźniej żadna śmiertelna walka i że to sama Hermiona Granger jest sprawczynią tego całego zamieszania. Wśród nich był również Harry, który teraz wzrokiem pełnym niedowierzania pomieszanego z pewną dozą wstydu wpatrywał się w przyjaciółkę. Natomiast brązowowłosa spojrzała na mężczyzn z politowaniem i ponownie zwróciła się do Ministra:
- Jeśli tak wygląda twój najlepszy oddział Aurorów, to chyba musisz wysłać ich z powrotem do Hogwartu, skoro przez tyle czasu nie potrafili złamać mojego zaklęcia...
Kingsley uśmiechnął się delikatnie, podczas gdy wszyscy Aurorzy, nie wyłączają Harry'ego, poczuli się co najmniej głupio i gromadnie opuścili całkiem spokojny gabinet, zostawiając dwójkę zainteresowanych samych sobie.
- A teraz, wracając łaskawie do wszystkich zarzutów, które przedstawiłeś przeciwko Malfoy'owi, to mogę wiedzieć, kto był w tej jakże szanownej komisji? - zapytała jadowicie.
- Nie możesz, Hermiono — odparł spokojnie. - To ściśle tajne informacje i nie mogę...
- Osoby poszkodowane przez Śmierciożerców? - warknęła, nie dając mu dokończyć zdania.
- Hermiono, naprawdę...
- Tak, czy nie? - zirytowała się.
- Tak — przyznał niechętnie. - Ale, Hermiono, kto w tej wojnie nie został poszkodowany? - zapytał w nieco żałosny sposób. - Przynajmniej ja nie znam takiej osoby.
- Ja też nie — przyznała oschle. - Co wcale nie znaczy, że czarodziej, który w ostatecznej bitwie przeszedł na naszą stronę, musi być traktowany w tak wielce niesprawiedliwy sposób tylko przez wzgląd na swoją młodość i błędy, które wtedy popełnił... Powiedz mi, dlaczego czuję, że nawet nie miał uczciwego procesu, tylko zaraz po odczytaniu oskarżeń, padł wyrok i został zamknięty w murach zamku przesiąkniętego złem? I dlaczego nie miał możliwości pożegnać się z braciszkiem?
- Co? O czym ty mówisz? - Kingsley wyglądał na mocno zaniepokojonego.
- Sprawdziłam to. Nigdzie nie ma najmniejszej wzmianki o tym, że szczątki chłopca zostały pochowane. Co z nimi zrobiliście?
- Tam nie było żadnych szczątków, Hermiono — ta odpowiedź nieco zbiła ją z tropu. Zaskoczona spojrzała na przyjaciela, który wstał ze swego miejsca i podszedł do magicznego okna. - Przybyłem tam wraz z grupą Aurorów. Wszędzie biegali zaaferowani mugole, kilka ścian się zawaliło i ich medycy wyciągali spod ruin rannych, a on... Malfoy klęczał pośrodku dawnego parkietu i nie reagował na żadne słowa. Wokół niego unosiła się tylko krwisto-brunatna mgiełka, którą później nasi najlepsi specjaliści zidentyfikowali jako pozostałość po Syriuszu Malfoyu... Tam nawet nie byłoby co zebrać, by włożyć do trumny. Ten maluch po prostu eksplodował.
Hermiona pisnęła i zakryła usta dłonią. Jak to w ogóle możliwe? Jak wielką moc musiał w sobie chować ten niewinny chłopiec, że doprowadził do czegoś takiego?!
- To nie zmienia faktu, że Draco miał prawo się z nim pożegnać! - powiedziała w końcu cicho. Jej głos wciąż drżał. - Wiem, co to znaczy, nie móc się pożegnać z ukochanymi osobami, Kingsley. Moi rodzice nie żyją, a nie mogłam nawet polecieć do Australii, przywrócić im pamięci, przeprosić ich za wszystko, bo w tym czasie ta wariatka wycinała mi na ramieniu jakże sugestywny napis! - syknęła, zrywając się ze swojego miejsca. - Umarli, nie wiedząc, że mają córkę, która walczy również za nich. Która każdej nocy płacze w poduszkę, tęskniąc za ciepłym głosem matki i opiekuńczymi ramionami ojca! - krzyknęła, a po jej policzkach spłynęły obficie łzy.
- Hermiono, ja...
- Zamknij się, Kingsley! - zezłościła się, ocierając szybko ślady swojej słabości. - Może i jesteś Ministrem Magii, ale wygląda na to, że przymykasz oko, gdy chodzi o sprawy, w których uczestniczą byli Śmierciożercy! Zawiodłam się na tobie. Zamierzam udowodnić, że Malfoy jest niewinny i wyciągnąć go stamtąd, a ty nie dość, że mi w tym nie przeszkodzisz, to jeszcze mi pomożesz! Czy to jasne? A teraz żegnam!