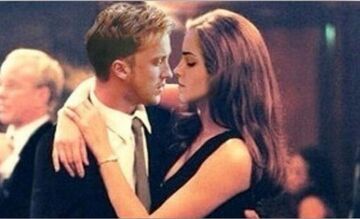 Westchnęła ciężko, widząc w progu celi kolejną nietkniętą tacę z jedzeniem. Ile to już razy widziała ten widok? Dziesięć? Dwadzieścia razy? Nieco zniecierpliwionym ruchem wyciągnęła z kieszeni swoją ukochaną różdżkę i machnęła nią krótko. Taca zniknęła, a wraz z nią niemal natychmiast nieprzyjemny zapach nieco popsutego już jedzenia. Mając to już za sobą podeszła szybko do pryczy i usiadła na jej brzegu. Ostrożnie, by nie wystraszyć chłopaka jakimś gwałtownym ruchem, położyła mu dłoń na ramieniu.
- Draco, jesteś? - szepnęła. Nie poruszył się nawet, nie spojrzał na nią, ani nie odpowiedział. Wciąż, tak samo od kilku tygodni, wpatrywał się w zdjęcie braciszka, które wisiało na ścianie. Było mocno nadpalone, ale zrobiła wszystko, by choć niewinna twarzyczka tego aniołka była wyraźna. - Draco? - potrząsnęła go za ramię i dopiero to wyrwało go ze stanu odrętwienia. Spojrzał na nią przez ramię, a jego bledsze niż zwykle, zapadnięte nieco policzki wykrzywił grymas niezadowolenia.
- Znowu tu jesteś, szlamo? - zapytał ochrypłym głosem.
- Naprawdę? - westchnęła. - Ile razy już przez to przechodziliśmy? Mówiłam ci, że twoje obelgi nie robią na mnie żadnego wrażenia. Już lata temu nauczyłam się nimi nie przejmować, więc z łaski swojej daruj sobie, dobrze? Nie mam zamiaru stąd odejść i będę przychodzić tu tak często, jak to tylko możliwe. Swoją drogą, dlaczego znów nic nie zjadłeś? Musisz jeść. Jesteś przeraźliwie chudy.
- Nic ci do tego - odburknął, znów przestając na nią patrzeć. - Poza tym nic nie muszę. Nie wydajesz mi rozkazów. Nie mam zamiaru więcej jeść. Dzięki temu szybciej zdechnę.
- Powtarzasz się, Draco — pokręciła głową z wyraźną irytacją.
- A przyszło ci do tego głupiego łba, że ja tego naprawdę chcę, Granger? Gdybym tylko mógł, zabroniłbym ci przyłażenia tutaj. Wzruszyła ramionami i odparła spokojnie:
- Dobrze wiesz, że nawet to nie powstrzymałoby mnie przed wyciągnięciem cię stąd.
- Dlaczego właściwie to robisz?
- Bo jesteś niewinny, Draco. Przyszłam ci powiedzieć, że Ministerstwo utworzyło nowy Departament, który we współpracy z Mungiem i pod moją kontrolą, ma badać przypadki nieusuwalnych klątw, jak ta ciążąca na Syriuszu. Wiem, niestety, że to nie zwróci mu już życia, ale... Ale prawdopodobnie dzięki ich badaniom proces twojego ułaskawienia będzie o wiele szybszy. Poza tym twój klub przechodzi właśnie gruntowny remont, więc kiedy już stąd wyjdziesz, znów będziesz mógł go otworzyć.
- Nie mam zamiaru — prychnął. - Naprawdę sądzisz, że mógłbym po tym wszystkim prowadzić klub, w którym zginął mój brat? Granger, nawet ty nie jesteś aż tak głupia.
- Po prostu pomyślałam...
- Więc przestań, bo ewidentnie ci to nie wychodzi — syknął i nieco na oślep odepchnął ją od siebie. Zaskoczona zjechała z pryczy i klapnęła sobie na tyłek. Słysząc jej cichy jęk, obejrzał się za siebie, a widząc ją na ziemi, jego usta rozjaśnił wredny uśmieszek, który mimo wszystko nie objął jego oczu.- I widzisz? To właśnie jest miejsce należne twemu gatunkowi, szlamo. A teraz stąd spieprzaj. I tak zmarnowałaś już zbyt wiele mojego cennego czasu...
- Nie pozwolę ci się poddać, Malfoy — warknęła rozzłoszczona, podnosząc się z zimnej podłogi i otrzepując z kurzu swoją ołówkową spódnicę. - Wyciągnę cię stąd.
- Po prostu zostaw mnie wreszcie w spokoju...

Dwa miesiące później.
- Malfoy. Zostałeś oczyszczony z zarzutów. Możesz wyjść...
- To jakaś nowa forma tortur? - zapytał słabym głosem, ledwie podnosząc głowę z poduszki i patrząc niepewnie na stojącego w drzwiach strażnika.
- Nie, Draco. Udało mi się dowieść, że jesteś niewinny — powiedziała naraz Hermiona, zjawiając się tu obok mężczyzny. W przeciwieństwie do niezadowolonego strażnika, wręcz tryskała entuzjazmem, a gdyby mogła, zapewne podskakiwałaby w miejscu. - Zabieram cię stąd.
- Niby dokąd? - wstał powoli i chowając do kieszeni zdjęcie braciszka, podszedł do niej nieufnie. Z niedożywienia słaniał się na nogach, ale mimo wszystko wciąż patrzył na nią z wyższością. Nie zamierzała dać mu się zbić z tropu.
- Do siebie — zarumieniła się mocno.
- Nie mam zamiaru z tobą mieszkać, czy coś — powiedział oschle, wymijając ją tak szybko, na ile pozwalały mu na to jego słabe nogi. Nigdy nie czuł się aż tak źle.
- Wcale ci tego nie proponowałam, kretynie. Po prostu pomyślałam, że pewnie będziesz chciał się odświeżyć, zjeść coś ciepłego — dogoniła go szybko.
- Chyba śnisz, jeśli sądzisz, że spokojnie zjem cokolwiek, co ugotujesz — prychnął i przyspieszył nieco kroku. - Wiesz, gdzie moja różdżka?
- Oczywiście, ale odzyskasz ją dopiero poza murami więzienia — odparła szybko, już nawet nie siląc się na uprzejmy ton. Skoro najwyraźniej nie miał zamiaru nawet podziękować i odrzucać każdą pomoc, jaką oferowała, to dobrze. Jej zadanie właśnie się kończyło.
-Po przejściu kilkunastu metrów ze strażnikiem depczącym im po piętach, wyszli w końcu na zalany słońcem dziedziniec. Odwykły od naturalnego światła Draco natychmiast osłonił oczy dłonią. Hermiona przystanęła kilka kroków od niego, w milczeniu oceniając jego stan. Był wychudzony, wyraźnie widziała to po tym, jak więzienne ubranie wisiało na jego ramionach. Jego dłuższe niż zazwyczaj platynowe włosy straciły swój dawny blask, a stalowo-błękitne oczy dotychczas patrzące na każdego z pogardą były zapadnięte. Gdyby musiała w tej chwili zgadywać, powiedziałaby, że ten chłopak już nigdy nie będzie się niczym cieszył. Nie dziwiła mu się. Stracił matkę, którą najwyraźniej bardzo kochał i małego braciszka. Życie nie było dla niego łaskawe. Ponadto piętno sługi Voldemorta będzie z nim już na zawsze. Tego tatuażu nie dało się usunąć. Teraz jednak odwrócił się do niej powoli i wyciągnął do niej dłoń w milczeniu. Hermiona pokręciła jednak tylko głową.
- Musimy wyjść za mur — powiedziała głośno, by usłyszał ją mimo przeraźliwego wycia wiatru. - Zanim to jednak zrobimy, chciałabym, żebyś mnie uważnie wysłuchał. Twoje akta zostały wyczyszczone, znów masz białą kartę, więc na brodę Merlina, nie schrzań tego, dobrze? To po pierwsze. Po drugie, klub jest gotowy, jeśli chcesz, możesz go otwierać, kiedy tylko najdzie cię na to ochota. Po trzecie, niemal wszyscy sędziowie Wizengamotu odpowiedzialni za twoje skazanie, zostali wylani ze swoich stanowisk, bez możliwości ponownego zasiadania w ławie. Zostało to już publicznie ujawnione, więc wszyscy wiedzą, że skazali cię z pobudek własnych, a nie zgromadzonych dowodów.
- Oddaj mi moją różdżkę, Granger i miejmy to już za sobą. Klub możesz sobie prowadzić, nie obchodzi mnie to, bo ja nie mam zamiaru tam wracać.
Westchnęła i poprowadziła go przez główną bramę. Gdy tylko przekroczyli jej próg, oddała mu jego magiczny atrybut. Jego długie palce natychmiast chwyciły różdżkę, bardzo uważając, by przy tym nie dotknąć dziewczyny. Niemal natychmiast po jego ciele poniosła się magiczna energia. Odetchnął głębiej i schował różdżkę do kieszeni, po czym, nawet nie oglądając się na swoją wybawczynię, okręcił się w miejscu i zniknął, deportując się w tylko sobie znanym kierunku.