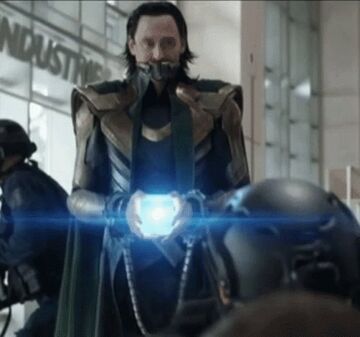 Wyprostował się i przeciągnął, bardzo zadowolony z siebie. To było właśnie to, czego w tej chwili potrzebował! Z przyjemnością oblizał usta, wstając z niskiej leżanki, na której odpoczywał. Wokół niego leżały inne kobiety. Wszystkie dyszały ciężko. No cóż... Po prostu był niebywale zdolny... Również jako kobieta


Przeszedł do drzwi, lawirując pomiędzy dziewkami i wciąż nagi, błyszczący potem wyszedł na korytarz.
- O, bogowie — zaśmiał się cicho, na samą myśl, co powiedziałby teraz Thor, gdyby tylko miał możliwość zobaczyć go w takiej sytuacji. Nie mniej jednak całą tę przygodę, jakże smakowitą, miał zamiar zachować tylko dla siebie. Zresztą i tak zawsze miał przed nim tajemnice...
Rozejrzał się, zastanawiając się, gdzie by teraz iść. Miał nadzieję, że takich przybytku jest tu o wiele więcej. Nie miał bowiem zamiaru odbierać sobie tej przyjemności... Bynajmniej, chciał zażyć jej jak najwięcej!
Bezwiednie ruszył korytarzem, który znajdował się na wprost niego, rozglądając się zaciekawiony. Zauważył, że ten nieznany mu dotąd lud uwielbiał najwyraźniej uwieczniać swoje dzieje za pomocą licznych, bardzo kolorowych malowideł. Wiedziony wrodzoną ciekawością podszedł bliżej do jednej ze ścian, przyglądając się niebywałym szczegółom, jakie zawierały. Miał nadzieję, że dzięki nim dowie się czegoś więcej o miejscu, w którym się nieopatrznie znalazł. Co prawda był rozzłoszczony faktem, że w ogóle ktoś śmiał pozbawić go wolności i uwięzić, ale dzięki starannemu wykształceniu, jakie zagwarantowała mu matka, był też świetnie oczytany, i co tu dużo mówić, uwielbiał poznawać nowe cywilizacje. To pozwalało mu wymyślać coraz to nowe psoty. No, a to miejsce niebywale było również luksusowe. Może, co prawda, daleko było u do Asgardu, ale i tak nie było jakoś tragicznie, więc własniwie, dlaczego tu nie zostać? Asgard nie dysponował takimi przybytkami rozpusty jak ten pałac. A on uwielbiał wszelkiego rodzaju zbliżenia!
Poza tym wreszcie byłby z daleka od ojca, którego szczerze nienawidził oraz od nieokrzesanego brata, który w najmniejszym stopniu nie nadawał się na następcę tronu. No i z daleka od intryg i polityki, która w Asgardzie była przecież na porządku dziennym. Nie znosił również tych nieustających plotek, które często urastały do miary niewiarygodnych zdarzeń. Przecież ileż to już razy był w nich nieszczęśliwie zakochany w durnych dwórkach, które te bzdury wymyślały na poczekaniu, by choć przez chwilę poczuć się ważniejsze od innych. Przyprawiało go to o mdłości...
Ruszył dalej, zwiedzając metodycznie i ostrożnie pałac. Zauważył bowiem, że straż jest niebywale poruszona. Najpewniej spostrzeżono już jego ucieczkę. W tym przebraniu nic mu jednak przecież nie groziło. Odkrywał więc coraz to nowe aspekty życia mieszkańców pałacu i najpewniej również całego kraju, lecz wciąż nie miał bladego pojęcia, gdzie właściwie się znajduje...

Po drodze znalazł jeszcze dwa miejsca podobne do tego, z którego skorzystał, jedno kompletnie męskie, drugie mieszane. Z tego drugiego natychmiast skorzystał. Dwukrotnie. Najpierw pod postacią kobiety, choć znów zmienił swój wygląd, zanim wszedł do środka, potem jako mężczyzna hojnie obdarzony przez naturę. I wciąż bardzo się pilnował, by nie zostać ewentualnym rodzicem. Tego w żadnym wypadku nie chciał. Nigdy. Jakoś nie uśmiechało mu się niańczyć rozwydrzonego, wrzeszczącego kompletnie bez sensu i śmierdzącego bachora! Dziękuję bardzo, z tym, to jak najdalej od niego. Dawno temu raz czy dwa nawet o tym pomyślał, ale szybko mu się odwidziało. I teraz niebywale się z tego cieszył. Teraz więc, gdy czuł, że może do tego dojść, uciekał natychmiast...

W końcu jednak nawet seks go zmęczył. Ileż można? No i przede wszystkim zgłodniał. Ruszył więc przez pałac w poszukiwaniu jakiegoś jadła. Gdy w końcu odnalazł kuchnię, a także przylegającą do niego jadalnię jego wnętrzności całkiem porządnie domagały się żarcia. I jakoś tak wyszło, że znów przybrał postać kobiety. Chyba po prostu lubił czuć ciężkie piersi

Zebrał na talerz sporą część mięsa i warzyw i ruszył do ustawionych w drugim pomieszczeniu stołów. Pochłaniając jadło z prawdziwą łapczywością, cokolwiek nieprzystającą kobiecie, zauważył, że do pomieszczenia weszło dwóch mężczyzn. Odziani w miękkie tuniki, które apetycznie opinały ich umięśnione ciała, dowiedli się do jego stołu, kilka krzeseł dalej, rozmawiając między sobą przyciszonymi głosami. W końcu jednak zirytowany ich frywolnym zachowaniem i bezczelnymi słówkami, jakie rzucali w jego stronę, zmierzył ich ostrym spojrzeniem, na co obydwaj wybuchnęli gromkim śmiechem.
- Czego? - warknął.
- Coś taka ostra? - zachichotał jeden z nich, który Lokiemu przywodził na myśl nieco wychudzonego psa.
- Ja? - zapytał.
- A widzisz tu inną, równie apetycznie wyglądającą dziewkę? - zaśmiał się ten drugi. Loki przeklął w myślach. No tak... Że też choć raz nie mógł się powstrzymać...
- Nie jestem zainteresowana — rzucił krótko, nawet na nich nie patrząc, zajęty nagle swoim pucharem z winem. Nie docenił jednak ich prostackiego uporu. Przekonał się o tym, gdy dosiedli się do niego, po jego obydwu stronach.
- Problem w tym, że my jesteśmy zainteresowani. Skąd się wzięłaś, czarnulko? Należysz do jednego z damskich haremów? - zainteresował się ten szczuplejszy. - Raczej nie jesteś z tych stron... Skąd więc?
- Z kosmosu — odparł niechętnie.
- Proszę?...
Loki pokręcił tylko głową z pełną rezygnacją i wstał, by odejść. Czarnowłosy schwycił go jednak wpół i przyciągnął na swe kolana.
- No, nie bądź taka...
- Puść mnie! - warknął Loki. Jego głos był mocny i twardy, zupełnie niepasujący do kobiety.
- Hej, maleńka, mój brat i ja chcemy się tylko zabawić, nic wielkiego — powiedział czarnowłosy, ściskając mocno "jej" pierś. - Przecież na pewno nam dasz...
- Nie! - odparł natychmiast szorstko, trzepiąc go po łapie i zrywając się na równe nogi. Mężczyźni natychmiast zrobili to samo. Ten drugi zasłonił mu drogę do drzwi. - Lepiej się odsuń...
- Ohoho! Słyszałeś, ja, Seth? Ta cizia chyba próbuje nam grozić...
- Owszem, słyszałem i jestem zdania, Ozyrysie, że należy nauczyć ją, kto tu rządzi...
Loki zmrużył niebezpiecznie oczy, stając tak, by móc ich widzieć obu i natychmiast zakończył iluzję. Znów był sobą, w swoim zielonym skórzanym stroju. W jego dłoniach niebezpiecznie błysnęły sztylety. Mężczyźni cofnęli się natychmiast, zaskoczeni jego postawą, no i niespodziewaną zmianą postaci.
- Kim jesteś? - zapytał Seth, patrząc niepewnie to na brata, to na nastroszonego asgardczyka.
- Loki Odinson, książę Asgardu.
- Jesteś bogiem? - zapytał Ozyrys, patrząc na niego niepewnie.
- Oczywiście — prychnął Loki. Seth spojrzał krótko na brata, ten na niego i jak na komendę ugięli kolana. Zaskoczony takim rozwojem wydarzeń Loki aż otworzył usta ze zdumienia...
- Co jest? - syknął, patrząc na nich niepewnie. Być może to po prostu był podstęp?
- Panie nasz, tyś potężny i władczy — rzekł Ozyrys, najwyraźniej nie śmiąc podnieść na niego wzroku.
- Boicie się? - zapytał ostrożnie, cały czas gotowy na ewentualną zasadzkę.
- Drżymy przed tobą. Nikt z nas nie potrafi równie chyżo postaci swej zmieniać, co i ty — odparł Seth.
- I mam wami rządzić?
- Tyś gotów nas do zaszczytnych celów nas poprowadzić...
Loki uśmiechnął się wrednie. Zwycięsko.

Ziewnął, spoglądając w okno. Nawet nie zauważył, że jest już ciemna noc. Zaczytał się w zwojach, które na jego polecenie przyniósł mu osobiście Ozyrys. Miał zamiar się w końcu dowiedzieć, gdzie się znajduje, a coś czul, że pytanie o to było nietaktem. No a komnata, którą otrzymał, była naprawdę komfortowa. Nie poinformował ich przecież, że to on jest zbiegiem, którego wciąż poszukują. Podał się za zbłąkanego wędrowca


Teraz wiedział już, że cywilizacja, w której przyszło mu żyć, jest porównywalnie stara do asgardzkiej. To go ucieszyło. Liczył bowiem na jakieś soczyste fakty, które mógłby wykorzystać wedle swoich potrzeb.
Niestety, ku własnemu rozdrażnieniu, nie znalazł jeszcze nic, co mógłby obrócić przeciwko nim. Zwoje nie zawierały właściwie nic oprócz chwalebnych i jakże entuzjastycznych opisów wielkich bitew, jakie stoczył ów lud. Zauważył jednak, że w opisach mieszkańcy pałacu pozostawali raczej biernymi obserwatorami poczynań swoich podwładnych, którzy najwyraźniej oddawali im jakąś cześć.
Wciągnięty w dość interesujące zapiski, zapomniał jednak o jedzeniu. Wyszedł więc z komnaty, w nadziei, że w kuchni pozostało choć trochę strawy i tuż za rogiem zderzył się z czymś małym i miękkim. Usłyszał cichy pisk i kiedy spojrzał w dół, zobaczył na ziemi młodą kobietę. Najwyraźniej zwalił ją znów impetem uderzenia. No cóż, nie jego wina, niech następnym razem patrzy, gdzie lezie. Wyminął ją, ruszając szybko dalej. Na miejscu, mimo późnej pory spotkał Ozyrysa, spożywającego posiłek. Władca powitał Lokiego krótkim serdecznym skinieniem głowy.
- Mam do ciebie kilka pytań — powiedział Loki, dosiadając się do niego i zabierając za swoją porcję mięsa.
- Słucham cię, co chcesz wiedzieć?
- Gdzie ja właściwie jestem?
- W pałacu — odparł tamten. To zirytowało Lokiego.
- To wiem! - syknął. - Nie rób ze mnie idioty! Pytam o planetę!
- Wybacz mi... Znajdujesz się obecnie na pustynnej planecie, zwanej Misr. Ludzie zwą jednak to miejsce Egiptem... A to jest najwspanialszy z pałaców...
- Jesteście bogami? - zainteresował się. Tej informacji również nie znalazł w zapiskach.
- Na pewno nie takimi jak ty... raczej ludźmi obdarzonymi pewnymi zdolnościami.
- Więc dlaczego mieszkańcy planety uważają was za waszych stwórców i wznoszą do was modły oraz obdarowują darami? - zaciekawił się.
- Cóż... Mieliśmy swój wkład w ich powstanie, to wszystko...
Loki kiwnął tylko lekko głową, w duchu ciesząc się, że ma tutaj taką władzę...

Trzy miesiące później.
Pośród cudnych ogrodów otaczających pałac, w błysku błyskawic, które wzięły się wprost z czystego nieba, pojawił się nagle postawny blondyn, odziany w zbroję i dzierżący w dłoni młot. Żwawym krokiem ruszył w stronę pałacu, nie zwracając najmniejszej uwagi na biegnących w jego stronę strażników. Kilka krótkich błyskawic i mężczyźni zalegli pokotem wśród wonnych traw. Wkrótce potem jak gdyby nigdy nic wkroczył do komnaty jadalnej, a tuż za nim dreptało kilku strażników, gotowych bronić swego władcy za cenę własnego życia. Pochłonięty pasjonującą go lekturą Loki, podniósł głowę dopiero wtedy, gdy usłyszał grzmiący głos brata:
- Loki!