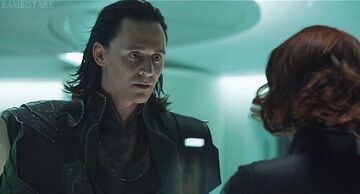 Wściekły uderzył pięścią w szybę celi, w której niestety się znajdował, patrząc na stojącą przed nim rudowłosą kobietę.
Drgnęła, widząc jego ruch. Zmrużył powieki i wtedy to się stało. Oboje zaczęli ciężej oddychać. Mimowolnie spojrzał na jej biust skryty pod materiałem obcisłego stroju. Źrenice miała delikatnie rozszerzone, a usta rozchylone. Ewidentnie oddychała przez nos. Ona też musiała wyczuć to napięcie, które między nimi zapanowało. Nie było ono jednak nieprzyjemne, o nie! Było cudownie bolesne, wiedział, cóż ono oznacza...
- Chcesz tego – wycedził przez zęby. Jego głos był niski, przypominał niemal warknięcie, a jednocześnie ociekał erotyzmem. Mimowolnie przełknęła ślinę, zwilżając usta koniuszkiem języka. Przymknął oczy zadowolony.
- Niby czego? – zapytała cicho, nie ruszając się z miejsca. Wstała niczym przymurowana, wpatrując się w jego oczy. Były błyszczące, dzikie i tak niesamowicie hipnotyzujące, że miała ochotę zatopić się w ich głębi.
- Tego – wskazał na swoje ciało teatralnym gestem, uśmiechając się cwanie. – Mnie. Całego. Przy tobie. Tak blisko, jak tylko może być mężczyzna z kobietą. Pragniesz czułości, spełnienia, które w odróżnieniu od tamtej bandy kretynów z łatwością mogę ci dać.
- Chyba śnisz! – prychnęła, cofając się o jeden mały kroczek. Zaśmiał się ostro, kręcąc głową.
- Ależ nie, ale ty owszem. Czyż nie, Natasho? – jej imię w jego ustach brzmiało jak jedwab, bawił się nim. – Natalio... Imię skrywające piękną obietnicę – mruknął uwodzicielsko.
- Obietnicę czego? – zmarszczyła brwi, przekrzywiając głowę.
- Obietnicę rozkoszy, piękna Natalio – przeciągnął językiem po swoich wąskich ustach. Nie potrafiła oderwać od nich spojrzenia. Niemal zabrakło jej tchu, gdy wyobraźnia podsunęła jej żywe obrazy tego, cóż mógł nimi zdziałać, gdyby mu się oddała. Na sekundę czy dwie przymknęła oczy. Oparł się dłonią o szybę, uśmiechając się triumfalnie. Czuł, że właśnie osiągnął to, czego pragnął. – Chodź do mnie, piękna, a otworzę przed tobą możliwości, jakich nigdy nie miałaś okazji zasmakować. Obiecuję, że zaspokoję twe potrzeby w każdy możliwy sposób po wielokroć.
- Dlaczego mi to proponujesz? – zapytała cicho.
- Bo mogę, Natalio. Pragniesz mnie, a ja pragnę ciebie. Nie wyprzesz się tego. Widzę po twoich oczach, że walczysz, ale to na nic. Potrzebujesz mnie. Nikt z twoich przyjaciół nie jest w stanie dać ci takiej rozkoszy, a zadowalanie się w sypialni również nie przynosi pożądanych efektów. Pozwól więc, że ukoję twe nerwy – powiedział łagodnie, cofając się na środek celi.
- Kłamiesz – mruknęła, na co tylko przechylił głowę, wpatrując się w nią jak jastrząb w swoją ofiarę. – Jesteś kłamcą, Loki, nie powinnam ci ufać. – wycofała się do panelu sterowniczego.
- Czego się boisz, maleńka? Że cię skrzywdzę?
Przytaknęła, wpatrując się w kontrolki.
- Zabawisz się, a ja nie lubię cierpieć – wyjaśniła. – Poza tym podejrzewam, że oczekujesz ode mnie, że po wszystkim cię stąd wypuszczę. Nic z tego.
- Ależ oczywiście, to mi nawet do głowy nie przyszło... - powiedział.
Westchnęła ciężko, wyłączając sygnał alarmowy informujący o otwarciu celi i zerknęła na niego. Wciąż spokojnie stał tam, gdzie wcześniej.
- Obym tego nie pożałowała – mruknęła do siebie, otwierając celę, po czym zrobiła kilka kroków w jego stronę. Wciąż tylko patrzył na nią uważnie. Stanęła tuż przy wejściu, patrząc na niego nieufnie.
- Zdecydowałaś – uśmiechnął się, wstając, gdy przekroczyła próg, po czym wyciągnął do niej dłoń, którą delikatnie ujęła, zaskoczona tym, jak jest chłodna. – Nie bój się, nie jestem aż takim potworem.
Uniósł rękę i ostrożnie pogładził ją po policzku. Mruknęła, przygryzając wargę i wpatrując mu się w jasne oczy. Płonęły pożądaniem.
- Na bogów – chrypnął, gdy wtuliła twarz w jego dłoń. – Naprawdę jesteś spragniona.
Objął ją w talii i gwałtownie przyciągnął do siebie. Jęknęła głośno, opierając się dłońmi o jego twardy tors. Podniosła głowę, patrząc na niego. Musiała przyznać, był naprawdę pociągający. Pochylił się, złączając ich usta w ostrym, namiętnym pocałunku. Oh, była tego warta. Całowała idealnie.
Przesunął dłoń na jej tyłek i ścisnął mocno, wpychając język głęboko do jej ust. Jęknęła ponownie, odpowiadając równie gorąco i zarzucając mu ręce na szyję. Podniósł ją tak, by mogła objąć go w pasie i oparł ją o szybę, kąsając zębami jej szyję i delikatnie napierając biodrami, by mogła poczuć, jak bardzo był gotowy.
- Oh, boże! – syknęła, drżąc nieco. Wyszczerzył się, rozpinając jej kombinezon.
Mruknął zadowolony, gdy dojrzał, że kobieta nie ma bielizny i sprawnie uwolnił jej piersi. Pociągnęła go lekko za włosy, oddychając prędko, gdy dotknął zimnym językiem jej obydwu brodawek, po czym zassał jedną wyjątkowo mocno. Odchyliła głowę, jęcząc z rozkoszy i czując, jak staje się wilgotna. Dawno już nie czuła tak cudownego podniecenia. Kiedyś... Ale James już dawno nie należał do niej...
Opadł z nią na kolana, kładąc ją na posadzce i unosząc jej ręce nad głowę. Jej piersi były tak cudownie zaróżowione od ssania i gryzienia. Smakowały nieziemsko. Warknął, gdy poruszyła się niecierpliwie, lecz nie przestał zabawiania się jej sutkami. On również był wyposzczony. Oderwał się od niej na chwilę i złączył ich usta w pocałunku. Szybkim i niemal brutalnym.
- Rozbierz się – warknął, patrząc na nią z ogniem w oczach. – Chcę, byś była dla mnie naga. Gotowa. I nie bywam łagodny.
- To dobrze – uśmiechnął się zadziornie, wstając i powoli zsuwając z siebie odzienie. Oblizał wargi. Po chwili stanęła przed nim cudownie naga. Uśmiechnął się, wodząc po niej wzrokiem. Uniósł lekko brew na widok jej wymyślnej fryzury intymnej.
- Piękna – stwierdził. – Chcę ją widzieć całą. Kładź się i rozłóż nogi.
- Najpierw ty się rozbierz – wyszeptała, kierując swe palce do spragnionej dotyku łechtaczki. Wstrzymał oddech, patrząc na nią. Gdy zaczęła się pieścić, odsuwając się nieco od niego, syknął wściekły i zerwał z siebie ubranie. Wyprostował się, szczerząc, gdy znieruchomiała, widząc jego kutasa. Był gruby, długi i nie miała wątpliwości, że zaserwuje jej mega orgazm. Padła na kolana, idąc do niego na czworakach, lecz pokręcił przecząco głową.
- Później. Kładź się!
Posłusznie wykonała jego polecenie, rozkładając szeroko nogi. Jęknął, widząc, że lśni już od soczków. Uśmiechnął się cwanie, kładąc przy niej i ponownie zassał jej sutek. Wygięła się, gdy zsunął dłoń do jej ud. Poruszyła niecierpliwie biodrami i w tym samym momencie wsunął w nią od razu dwa palce. Krzyknęła zaskoczona, czując ich przyjemny chłód, gdy zaczął ją w ten sposób zaspokajać, jednocześnie wciąż liżąc jej piersi.
- Oh, Loki! – jęknęła głośno, gdy jego smukłe palce z wprawą odnajdywały jej najczulsze miejsce.
- Tak, maleńka? – polizał ją po szyi. – Chcesz więcej? – zapytał niskim szeptem, który wywołał u niej dreszcze. – Chcesz poczuć, jak wchodzę w ciebie? Jak cię posuwam? Pragniesz tego? Wiesz, że cię zaspokoję, że...
- Błagam – jęknęła, patrząc mu w oczy. – Potrzebuję tego, Loki!
Wysunął z niej palce i podniósł do ust.
- Słodka – uśmiechnął się, smakując jej soczki. – Odwróć się i klęknij – rozkazał, dając jej lekkiego klapsa w te cudowne cycki. Jęknęła, z radością spełniając jego polecenie. Klęknął tuż za nią, drażniąc ją penisem. Odrzuciła głowę, stękając cicho, gdy fundował jej tę delikatną torturę. Zadrżała, gdy wsunął w nią samą główkę i sięgnął do jej włosów. Wplótł w nie dłoń i wszedł w nią po same jądra. Jej wrzask wypełnił celę. Przyjęła go w całości, drżąc od miliardów doznań, jakie już na samym wstępie jej zafundował, podczas gdy on powoli się z niej wysuwał. Złapał ją drugą dłonią za biodro i kiedy pozostał w niej już tylko koniuszek jego penisa, ponownie wszedł w nią mocno i o wiele szybciej.
- Szybciej? – mruknął, nachylając się i liżąc ją po szyi. Kiwnęła nieznacznie głową, więc przyspieszył nieznacznie. – Jeszcze? A może mocniej? – uderzył w nią biodrami dużo gwałtowniej. Zawyła z rozkoszy. – Krzycz, Natalio i tak nikt cię dzisiaj nie usłyszy. Dzisiaj jesteś tylko moja!
Pisnęła, gdy po chwili narzucił niemal mordercze tempo. Wypięła się jeszcze mocniej, podczas gdy on wbijał się w nią raz za razem, precyzyjnie uderzając w jej najczulszy punkt. Był duży i wchodził w nią po same jądra, wydobywając z niej coraz żałośniejsze jęki rozkoszy. Drżała, a jej piersi obijały się o siebie przy każdym ruchu jego bioder. Chłód jego ciała niemal palił. Był ostry, prawie brutalny, ale na bogów, właśnie tego potrzebowała! Wrzasnęła, gdy wymierzył jej solidnego klapsa, od którego zapiekł ją pośladek. Oh, jakie to było podniecające!
Złapał ją mocno za kark, przyspieszając jeszcze. Była tak cudownie mokra i ciasna. Nie miał zamiaru tak łatwo jej odpuścić...
- Tak, Loki! – zawyła, czując, że za chwilę osiągnie tak potrzebne spełnienie.
- No, suczko, dojdź dla mnie! – syknął jej do ucha, wbijając się w nią raz za razem niemal jak zwierzak. – Chcę cię słyszeć, gdy będziesz szczytować na moim kutasie!
I w tym momencie doszła. Jego słowa sprawiły, że dosłownie rozpadła się na milion kawałeczków, gdy orgazm zawładnął całym jej ciałem, wyrywając z jej gardła zduszony okrzyk.
- Loki! – jęknęła, ledwo potrafiąc utrzymać się na drżących rękach. Wysunął się z niej szybko, siadając na podłodze.
- Dosiądź mnie. Chcę widzieć, jak znowu dochodzisz, chcę widzieć to w twoich oczach!
Posłusznie podniosła się i opadła na jego biodra, ocierając się mokrą cipką o jego penisa. Złapał ją wpół, patrząc jej w oczy i uniósł ją nieco, by mogła się na niego nabić. Gdy to zrobiła, syknęła z rozkoszy, gdy ten potwór zniknął cały w jej rozgrzanym wnętrzu. Po chwili z jego pomocą zaczęła się ruszać. Góra dół, zataczając biodrami niewielkie kółka. Zacisnął zęby na jej sutku, palcami masując jej nabrzmiałą łechtaczkę. Bogowie, była taka cudowna!
- Tak, maleńka, spraw bym doszedł. Chcę cię zalać – syknął, liżąc dla odmiany jej szyję. Odchyliła głowę, opierając się dłońmi po obydwu stronach jego ud i przyspieszyła, choć praktycznie nie widziała już nic. Uśmiechnął się, widząc, w jakim jest stanie i przyciągnął ją do siebie, unieruchamiając. Jęknęła, gdy to on zaczął się znów w niej poruszać. Po chwili poczuł, jak jej gorące wnętrze zaciska się na nim gwałtownie. Z jej drżących ust dobył się piskliwy krzyk, gdy doszła ponownie, tryskając długo.
- Jeszcze trochę – jęknął, przyspieszając maksymalnie, podczas gdy jej cipka pulsowała wokół niego rytmicznie, doprowadzając go do ekstazy. Warknął, gryząc ją w szyję i spuszczając się w nią głęboko. Odrzuciła głowę, czując, jak jego gorąca sperma rozlewa się w jej wnętrzu. – Przyjdź tu później i przynieś coś, bym mógł cię zatkać...
Spojrzała na niego jak na idiotę.
- Chcesz mnie zakneblować? – spytała cicho. Zaśmiał się, całując ją lekko.
- Niezły pomysł, ale chodziło mi o twoją cipkę. Nie chcę, by cokolwiek mojego z ciebie wypłynęło, rozumiesz? To bardzo podniecające, gdy masz mnie w sobie. I dzięki temu dasz mi syna – mruknął po chwili, muskając wargami jej szyję. - I będziesz przychodzić do mnie tak często, aż powiesz mi, że się udało. Poza tym, pragnę cię zasmakować, maleńka.
- Loki... - chrypnęła, drżąc w jego ramionach. – Ja nie mogę mieć dzieci...
- Dasz mi go – warknął, patrząc na nią ostro. – Zobaczysz...