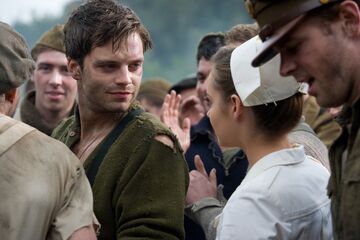 Uśmiechnął się, gdy wszyscy wokół zaczęli wiwatować na cześć jego kumpla. Zasługiwał na to...
- Bucky! - krzyknęła naraz młoda pielęgniarka, podbiegając do niego. Znał ją...
- Connie — mruknął, uśmiechając się cwanie. - Cześć.
- Myślałam, że nie żyjesz! - rzuciła mu się na szyję, szlochając cicho.
- Już dobrze — objął ją w talii. - Uspokój się, mała.
- Przepraszam — chlipnęła, wycierając nos. - Strasznie wyglądasz, chodź, opatrzę cię - złapała go za rękę, ciągnąc w stronę namiotów.
Uśmiechnął się pod nosem. Faktycznie, potrzebował fachowej opieki i doskonale wiedział, że taką od niej dostanie, więc nie zdziwił się zbytnio, gdy prawie biegiem minęli namiot sanitariuszy, zmierzając na obrzeża obozu, gdzie znajdowały się prywatne namioty. Po chwili weszli do jednego z nich.
- Masz zamiar mnie opatrzeć? - zapytał nieco ochryple.
- Oczywiście — przytaknęła poważnie.
- To dobrze się składa — mruknął, przyciągając ją mocno do siebie i wpijając się w jej usta. Jęknęła zadowolona, gdy złapał ją za kark, odchylając jej nieco głowę, by pogłębić pocałunek. Ich języki połączyły się w szalonym tańcu.
Oparła się dłońmi o jego klatę i delikatnie przesunęła je w dół, na wyrzeźbiony brzuch mężczyzny.
Uśmiechnął się poprzez pocałunek, rozpinając wprawnie jej pielęgniarki kitelek. Po chwili ten wraz z bluzką kobiety wylądował na ziemi.
- Obróć się — mruknął Buck, delikatnie przygryzając jej wargę. Zachichotała radośnie, spełniając natychmiast jego polecenie. Pochylił się, całując ją w kark, od czego natychmiast zadrżała podniecona. - Ciii — syknął, gładząc ją po ramionach. - Spokojnie, mała.
Zsunął dłonie na zapięcie jej biustonosza, a gdy ten wylądował dokładnie na bluzce kobiety, sięgnął do suwaka jej spódnicy. Znów pocałował ją w szyję, na co jęknęła zadowolona, gdy przesunął po skórze rozgrzanym językiem, drżąc z niecierpliwości, gdy zdjął z niej spódnicę. Pomógł jej z niej wyjść i obrócił ją przodem do siebie, szczerząc się szeroko.
- Uwielbiam pończochy — chrypnął, delikatnie muskając palcami jej niewielkie piersi. Jęknęła cichutko, przygryzając wargę i patrząc na niego rozpalonym wzrokiem. - Rozepnij mi spodnie, mała.
Uśmiechnęła się szeroko, sięgając do jego rozporka i rozsuwając go. Po chwili wyszedł ze skotłowanych na ubitej ziemi spodni i stanął przed nią w samych bokserkach, które opinały jego nabrzmiałą męskość. Oblizała usta, chwytając jego penisa i ściskając lekko. Syknął, łapiąc ją za włosy.
- Wyjmij go, Connie i obciągnij mi — powiedział twardo, gładząc ją drugą dłonią o policzku. Kiwnęła głową, opuszczając mu bokserki. Uwolniony kutas niemal uderzył ją w twarz. Oblizała usta, ujmując go u nasady mocno i wzięła do ust. Bucky odchylił głowę, zamykając oczy i jęcząc cicho. Tak bardzo mu tego brakowało! Niewola u tych Niemców była naprawdę straszna... Eksperymenty, tortury... Nie! Nie wolno mu teraz o tym myśleć! Był wolny, była z nim Connie, Steve żył i wyglądał lepiej, niż dotychczas. Więc powinien się cieszyć, a nie przeżywać. Tamto piekło już nigdy nie wróci.
Zamruczała, oblizując ze smakiem główkę jego grubego kutasa, po czym wzięła go całego do ust i zaczęła mocno mu obciągać. Wiedziała doskonale, że po wszystkim Buck nie będzie jej dłużny i albo wyliże ją dokładnie, albo wypieprzy tak, że przez godzinę nie pozbiera się po intensywnym orgazmie, który jej zafunduje.
Delikatnie ścisnęła jego jądra, masując je i ugniatając, a jej język pracował niestrudzenie, zbierając pierwsze tak słodkie kropelki jego nasienia. Uwielbiała smak Buckiego. Odetchnęła głęboko, łapiąc jego kutasa w dłoń i zaczynając mu trzepać i ssąc jednocześnie główkę. Czuła, jak pod wpływem jej pieszczot, wyposzczony kutas zwiększa nieco swą objętość.
Jęknął głośno, gdy przejechała po nim zębami, lecz nie sprawiło mu to bólu, lecz dodatkową przyjemność. Mocniej zacisnął dłonie na jej włosach, po czym spojrzał na nią. Widok tej niegdyś niewinnej dziewczyny, teraz obciągającej mu z taką wprawą, jedynie podniecił jego pożądanie.
- Weź go głęboko — wymruczał ochryple, nieco ciągnąc ją za włosy. Kiwnęła głową, biorąc go do ust jak najgłębiej. Sapnęła, starając się rozluźnić. Po chwili jego kutas dotknął tylnej ścianki jej gardła. - Brawo! - warknął i zaczął się w niej poruszać, unieruchamiając jej głowę dłońmi. Zakrztusiła się nieco, gdy brała go głęboko w gardło, ale nie miała zamiaru go odpychać. Jej też bardzo go brakowało. Pamiętała doskonale, jak ją rozdziewiczył na jakimś pikniku. Choć była po tym mocno obolała, nigdy nie zamieniłaby tamtego wieczoru. Bucky zawsze doskonale wiedział, co robić, by sprawić przyjemność sobie, jak i jej. Więc teraz z ochotą przyjmowała wszystko, co miał jej do zaoferowania, choć miała wrażenie, że mężczyzna jest śmiertelnie wykończony.
Po chwili wyciągnął z jej ust ociekającego śliną kutasa i wyszczerzył się zadowolony.
- Uwielbiam, gdy mi obciągasz, Connie. Jesteś w tym naprawdę świetna. - puścił jej oczko, na co natychmiast się zarumieniła. - Połóż się teraz, mała, chcę cię wylizać. Podejrzewam, że jesteś już bardzo mokra...
Posłusznie położyła się na posłaniu, patrząc na niego figlarnie, gdy kleknął między jej udami, przesuwając po nich dłońmi. Wzdrygnęła się lekko z podniecenia, gdy wsunął palce pod jej majtki, by po chwili zsunąć je tak mocno, na ile pozwalały na to pasy pończoch. Przejechał palcem po włoskach zdobiących najsłodszy fragment Connie i zatopił w nich język, docierając do mokrej cipeczki. Mruknął zadowolony, czując, jak bardzo już jest na niego gotowa. Więc lizanko, które właśnie jej fundował, było w głównej mierze przyjemnością samą w sobie, a nie zniwelowaniem tarcia, gdy wreszcie w nią wejdzie.
Wygięła się, zaciskając dłonie na prześcieradle, gdy uderzył językiem w jej łechtaczkę i pisnęła cicho. Zachichotał, trąc palcami jej sutki i ssąc nabrzmiały dzwoneczek. Po chwili poczuł w ustach jej soczki, więc oderwał się od niej i sprawnie rozpiął jej pończochy, by zdjąć z niej majtki. Uśmiechnięta rozłożyła szeroko nogi, ściskając sobie piersi. Złapał ją za biodra, wchodząc w nią płynnym, choć ostrym pchnięciem. Jęknęła, wyginając się mocno i złapała go za pośladki.
- Bucky! - chrypnęła, gdy zaczął się w niej szybko poruszać.
- Tak, mała, jęcz dla mnie! - warknął, ściskając jej udo jedną dłonią, a drugą nacisnął na jej karku, opierając czoło o jej i patrząc jej w oczy. Wbiła mu paznokcie w plecy i przejechała nimi w dół, zostawiając na skórze czerwone pręgi. Wpił się w jej usta namiętnym pocałunkiem, liżąc się z nią szybko. Ich oddechy były urywane, a ciała wkrótce pokryły się potem.
Wyszedł z niej na chwilę, by następnie przewrócić ją na brzuch. Złapał ją za biodra i podniósł ja do klęku. Kolanem rozsunął jej uda i wszedł w nią ponownie. Krzyknęła z rozkoszy, wyginając plecy w łuk. Skorzystał z tego natychmiast, zaciskając dłoń na jej szyi. Sapnęła, gdy zdzielił jej pośladek silnym klapsem, po którym na skórze pozostał czerwony ślad jego dłoni.
- Jęcz, Connie! Chcę cię słyszeć, mała! - mruknął jej do ucha, jeszcze przyspieszając.
- Bucky! - pisnęła, zaciskając się na nim mocno, gdy natarł swoim grubym kutasem na jej najczulszy punkt. Pierwszy spazm orgazmu wstrząsnął jej ciałem. Wymierzył jej drugi klaps i złapał ją mocno za biodra, wchodząc w nią raz za razem w szalonym tempie. Dyszał, a żebra i głowę rozsadzał mu nieznośny ból — pamiątka po niedawnej niewoli, ale nie zwracał na to uwagi, mając zamiar doprowadzić Connie na sam szczyt rozkoszy.
W końcu krzyknęła piskliwie, dochodząc mocno, a jej pulsująca cipka zacisnęła się na nim niemal boleśnie. Sapnął, ledwo się z niej wysuwając i przewrócił ją na plecy. Klęknął tuż przy jej głowie, trzepiąc sobie mocno i jęcząc w rytm ruchów dłoni. Widząc go nad sobą, otworzyła usta, gotowa na jego nasienie. Złapał ją za głowę, wpychając jej do ust główkę pulsującego penisa i po kilku ruchach dłonią, doszedł gwałtownie, z głośnym okrzykiem w jej usta. Przymknęła oczy, rozkoszując się jego gorzkawym smakiem i przełknęła, ile się dało. Reszta spłynęła jej po brodzie na dekolt.
- Zdolna dziewczynka — zaśmiał się ochryple. - Lubię, gdy przełykasz — sapnął, opadając obok niej bez sił. Był naprawdę wykończony.